San Jose to Needles, CA — 601 miles
And, so begins the 2 week adventure that will check off 5 new states in our 50 by 18 Project. This trip is all about the desert Southwest. The months leading up to the trip, Valerie and I plotted and schemed the best route to cover, and ultimately ended up with a Google Doc that had a day-by-day plan with sights to see, places to stay, and reasonable mileages to cover with a six year old sandwiched between a pair of four-year-olds in the back of our trusty Jetta Wagon TDI.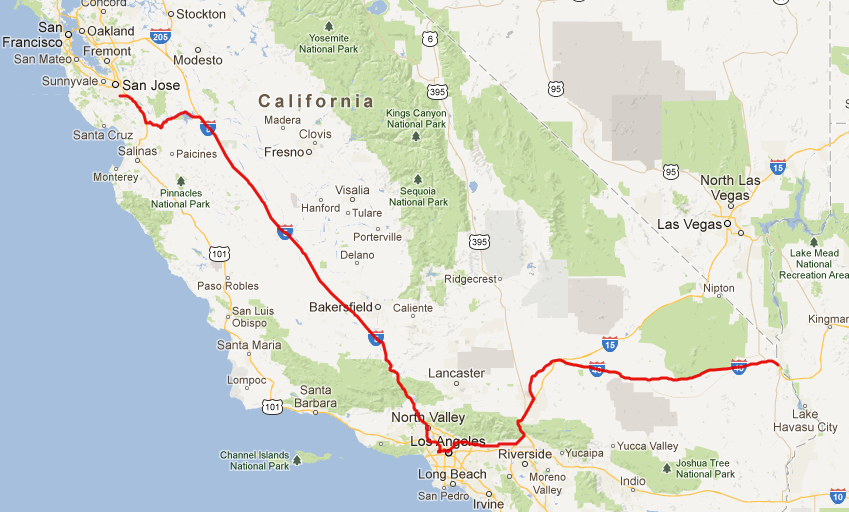 [click to go to an interactive map]
However, the first day was anything BUT a reasonable mileage day. We wanted to run as much of the old road of Route 66 as we could going toward Albuquerque. Since we were so close to LA, we might as well stop and visit our friends, Mark and April, and see their new(ish) born daughter, Violet.
Stella has her lovies and is ready to go!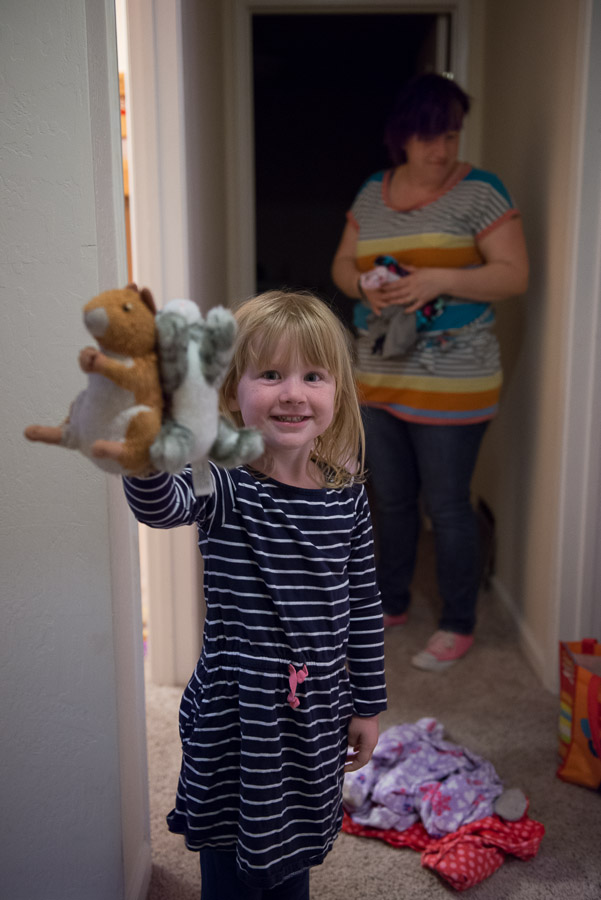 Nikon D600, ISO 2800, ƒ/2.8, 1/50sec, 38mm focal L.
An early start for this long day was planned. But, the Friday night after work wasn't quite as productive as one hopes and the car loading commenced in the morning. Turns out my worries about running out of space were completely unfounded.
The car is packed and ready — with room to spare.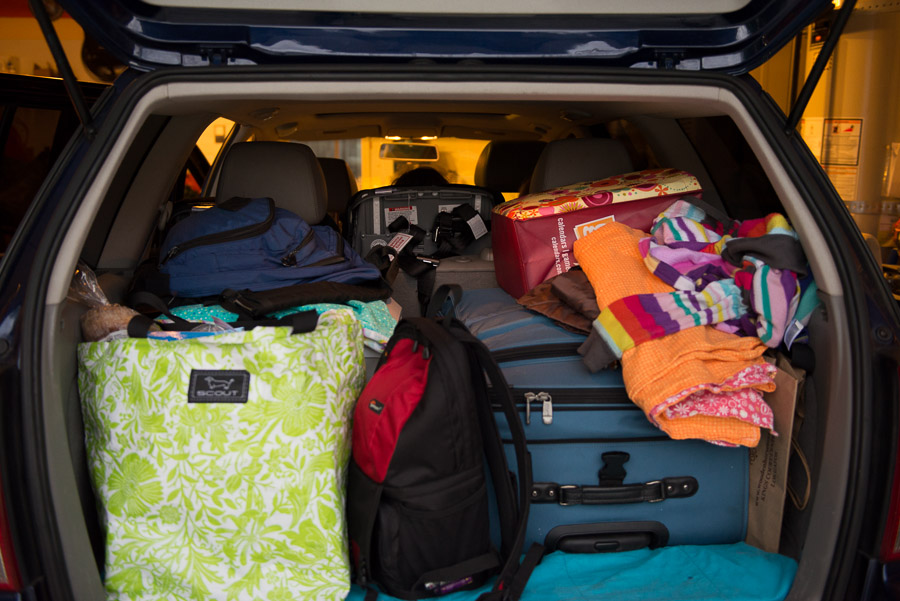 Nikon D600, ISO 1600, ƒ/2.8, 1/50sec, 34mm focal L.
Valerie prepared bagels and cream cheese to eat in the car so we could get on the road and stay there with minimal stops until LA. It was a fast burn down I5, with a quick stop for potty and fuel before ascending the Grapevine.
Baby Violet plays it cool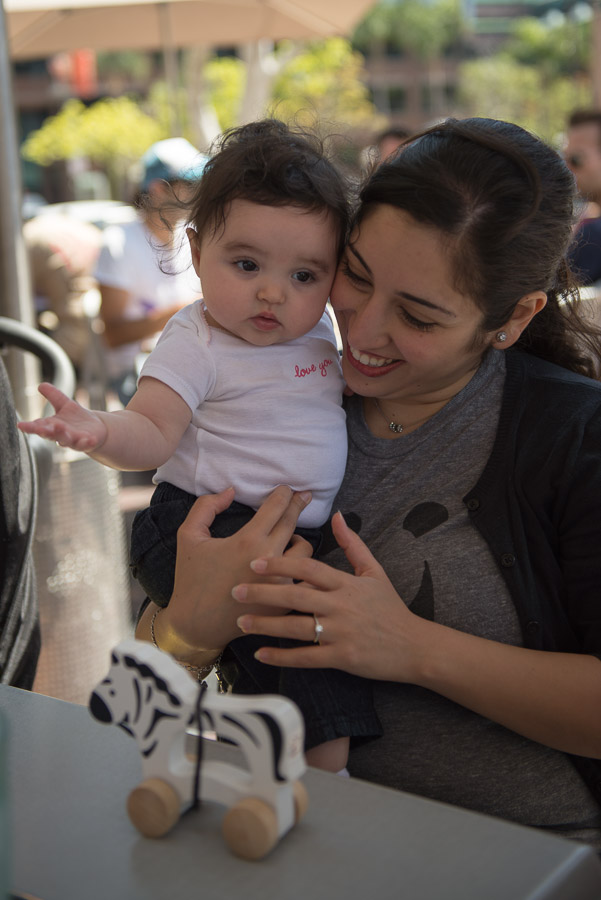 Nikon D600, ISO 100, ƒ/2.8, 1/800sec, 48mm focal L., map
Baby Violet is simply adorable. It was far too short of a visit.
First stop — Lunch in LA to meet some friends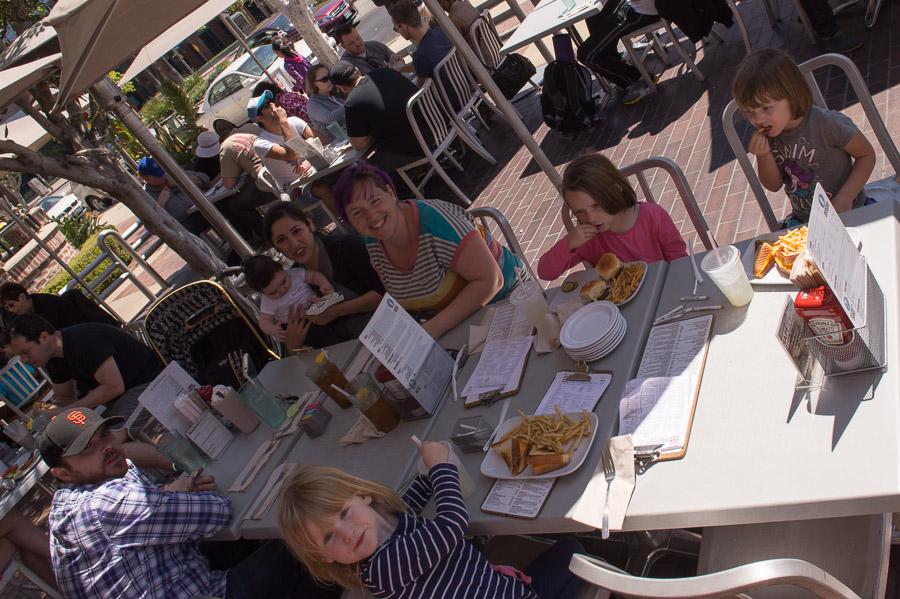 Nikon D600, ISO 100, ƒ/11.0, 1/160sec, 24mm focal L., map
I didn't recall being at the tar pits prior to coming here. However, standing there and taking in the scene stirred up vague memories of visiting sometime in the distant past.
The tragedy of La Brea Tar pits.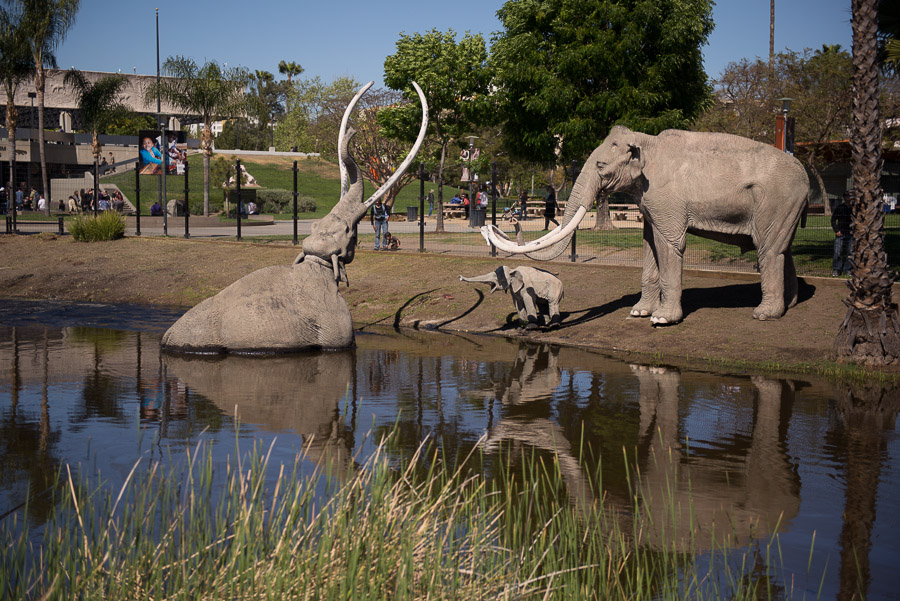 Nikon D600, ISO 100, ƒ/2.8, 1/4000sec, 55mm focal L., ~317ft from prev photo, map
Pent-up energy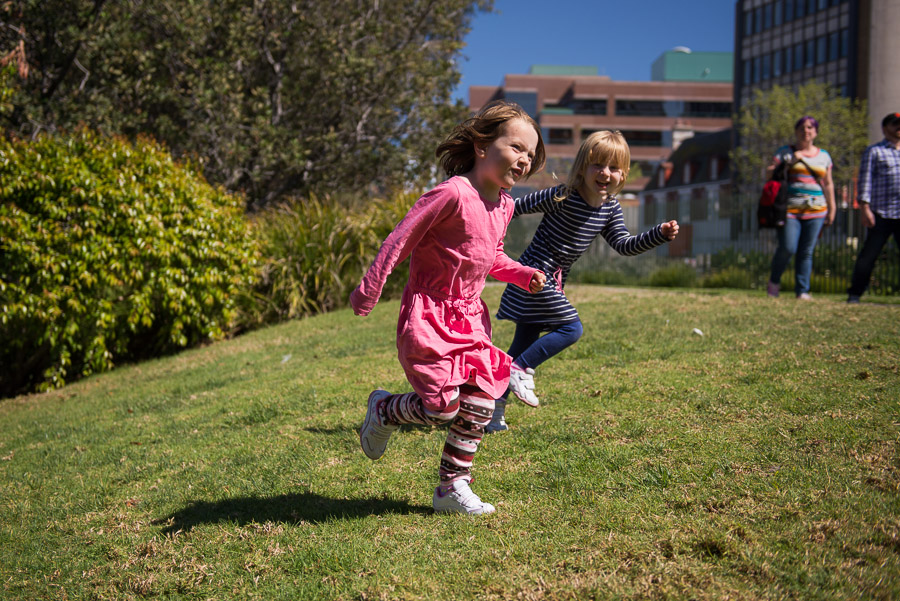 Nikon D600, ISO 100, ƒ/2.8, 1/1000sec, 40mm focal L., ~300ft from prev photo, map
The girls were all too happy to be out of the car.
Toothless Maia — Not afraid to show it.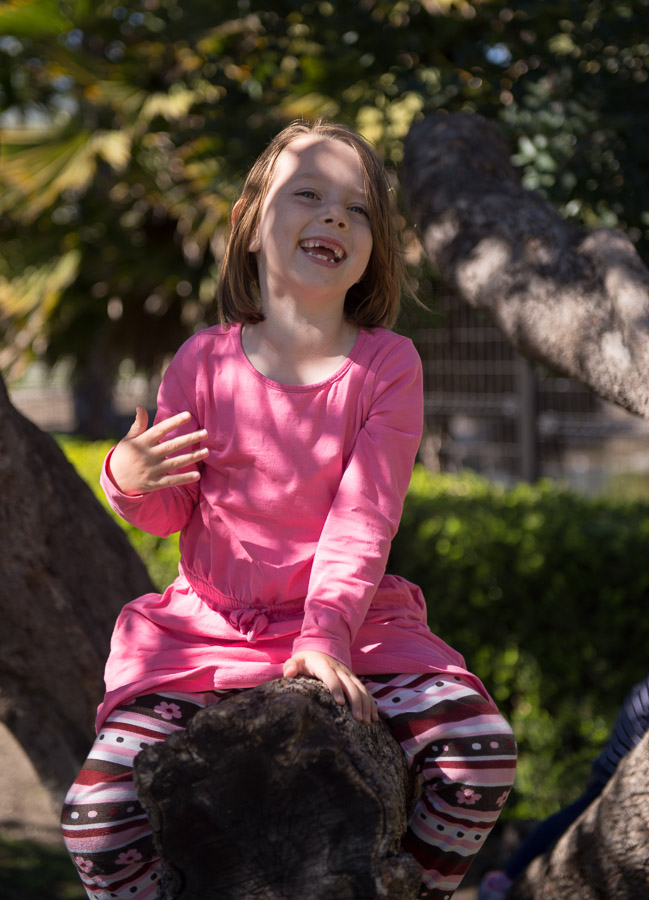 Nikon D600, ISO 100, ƒ/2.8, 1/320sec, 60mm focal L., map
Oozing tar — no, it's not just a fake pond after all.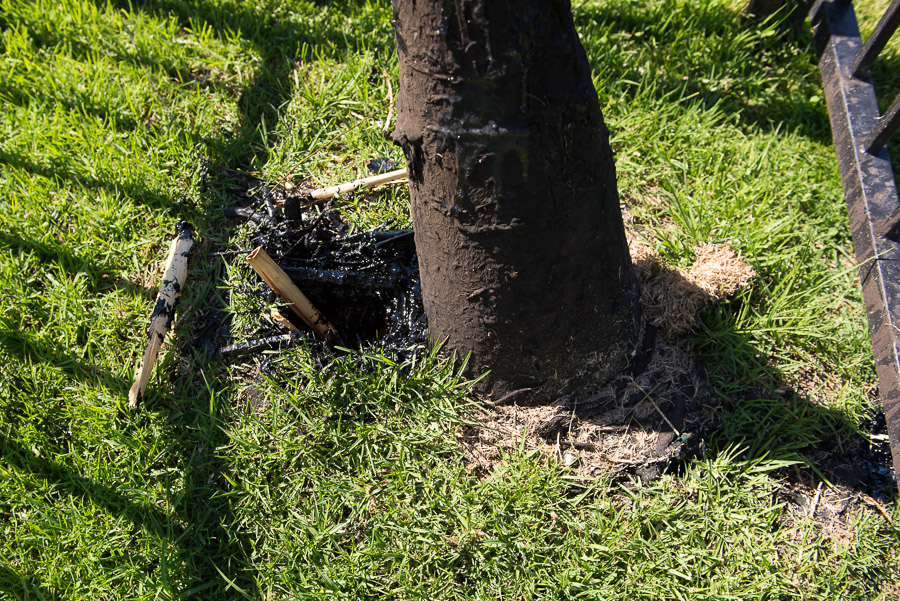 Nikon D600, ISO 100, ƒ/5.0, 1/80sec, 29mm focal L., ~837ft from prev photo, map
The pond of the tragic scene pictured above is man made. Apparently, the asphalt was quarried out and resulting pond is the remnant of that quarry. However, there is no doubt that the tar literally does still ooze from the ground here.
Paleontology "dig" — flags are marking various bones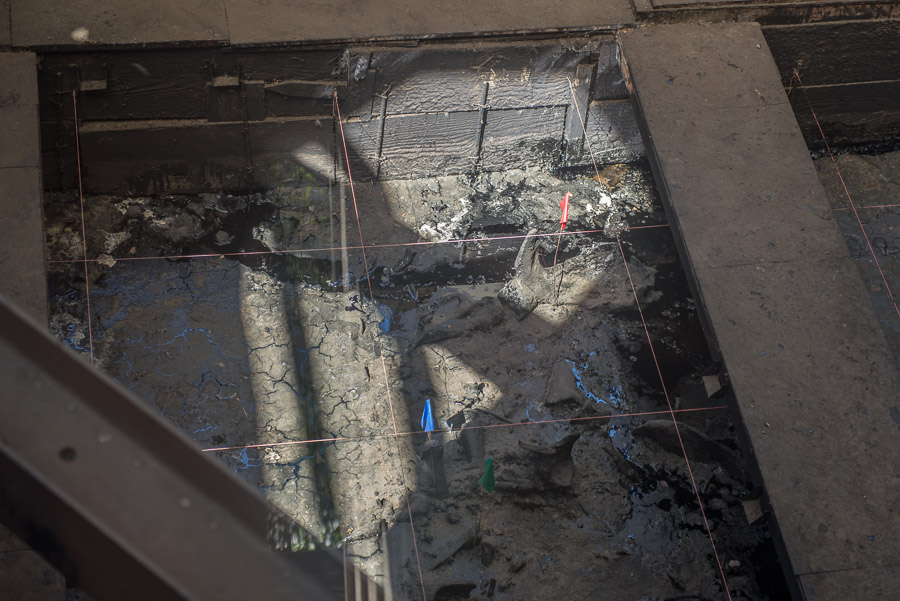 Nikon D600, ISO 100, ƒ/2.8, 1/60sec, 70mm focal L., map
The girls were fascinated by the prehistoric horse bones. It doesn't seem they are in any real hurry to extract these fossils; seems the last activity happened years ago based on the rusty tools. What a sticky, gooey mess to have to extract science from.
Where's Maia? — Ohh, she's off camera, refusing to participate.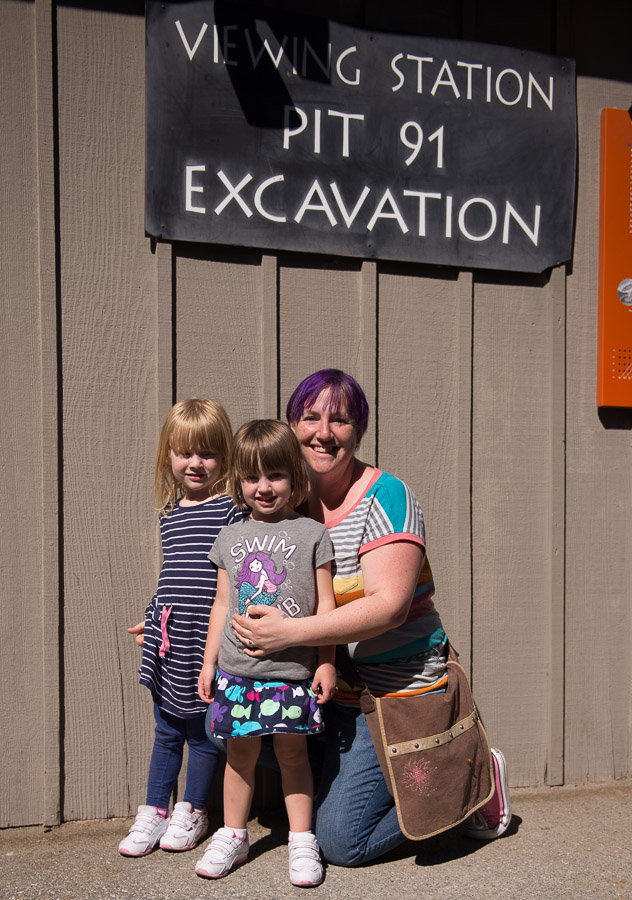 Nikon D600, ISO 100, ƒ/2.8, 1/1250sec, 35mm focal L., ~746ft from prev photo, map
Alas, we had to bid our farewells. We had a destination for the night and time was not waiting for us.
One last goodbye of baby Violet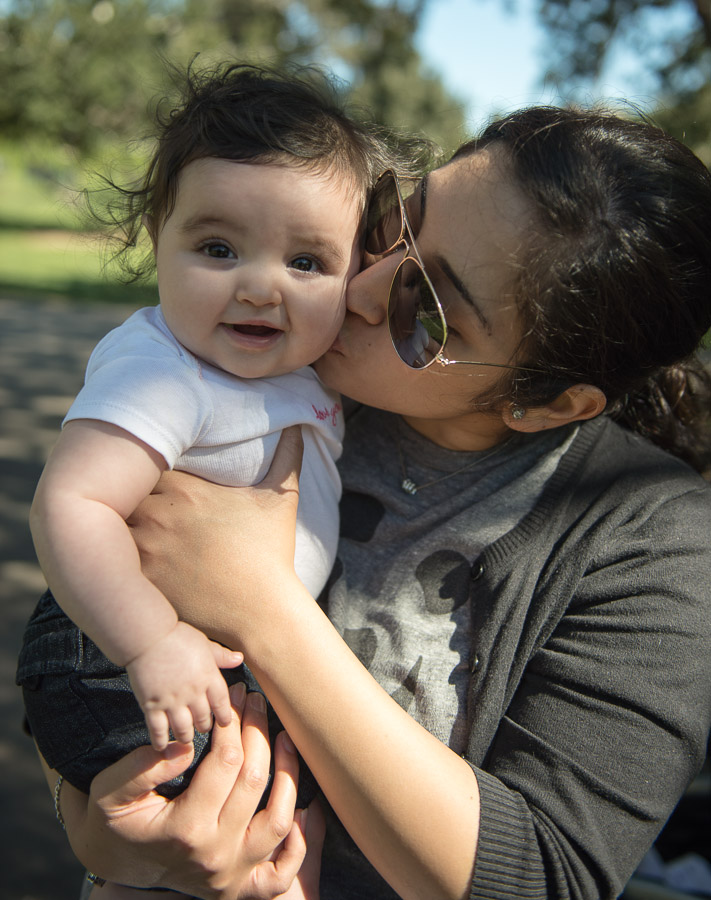 Nikon D600, ISO 100, ƒ/2.8, 1/500sec, 35mm focal L., map
On our way out of LA, we made a brief detour to drive over the famous Colorado Street Bridge. (infamous? Also known as "Suicide Bridge".) Built in the early thirties, it screams of Art Deco and was originally a piece of the old Route 66.
And, we are going to get our kicks on this trip?
We most certainly are! The bridge proved to be the first bit of the old road we traveled on.
And, it was worth the detour?
Completely! So much so, no actual photos were taken before, during, or after the get away from the bridge. You'll have to be satisfied with a link to Wikipedia, instead.
After our scenic detour, it was time to make some miles. For which, LA traffic just laughed in our faces and it was, "gas, brake, honk" all the way to Victorville.
A common site on the old road.


Nikon D600, ISO 100, ƒ/2.8, 1/500sec, 24mm focal L., ~75mi from prev photo, map
At Victorville, we departed the freeway to drive a stretch of the Mother Road and make our way off the beaten track. The evidence of a once thriving thoroughfare passed us by nearly as frequently as the mile markers. Old watering holes, gas stations, and motels … all there to make the long journey to/from the Midwest possible.
Most of it: boarded up.
Route 66 goodness — I don't think that originally was Mediterranean.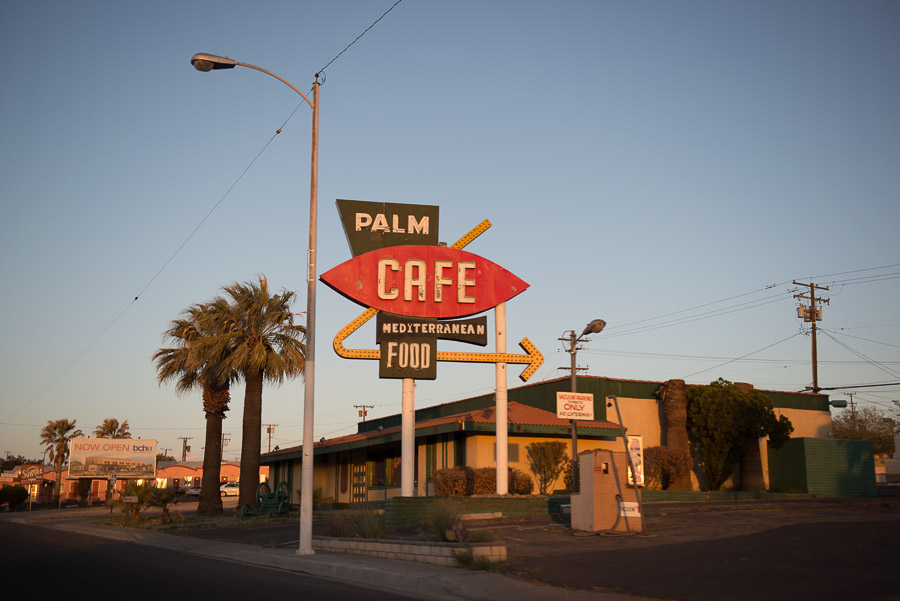 Nikon D600, ISO 100, ƒ/2.8, 1/200sec, 40mm focal L., ~19mi from prev photo, map, @ 37 MPH
Entering into Barstow, it was encouraging to see some of the old properties still hanging on.
To the interstate! — away from businesses of yesteryear.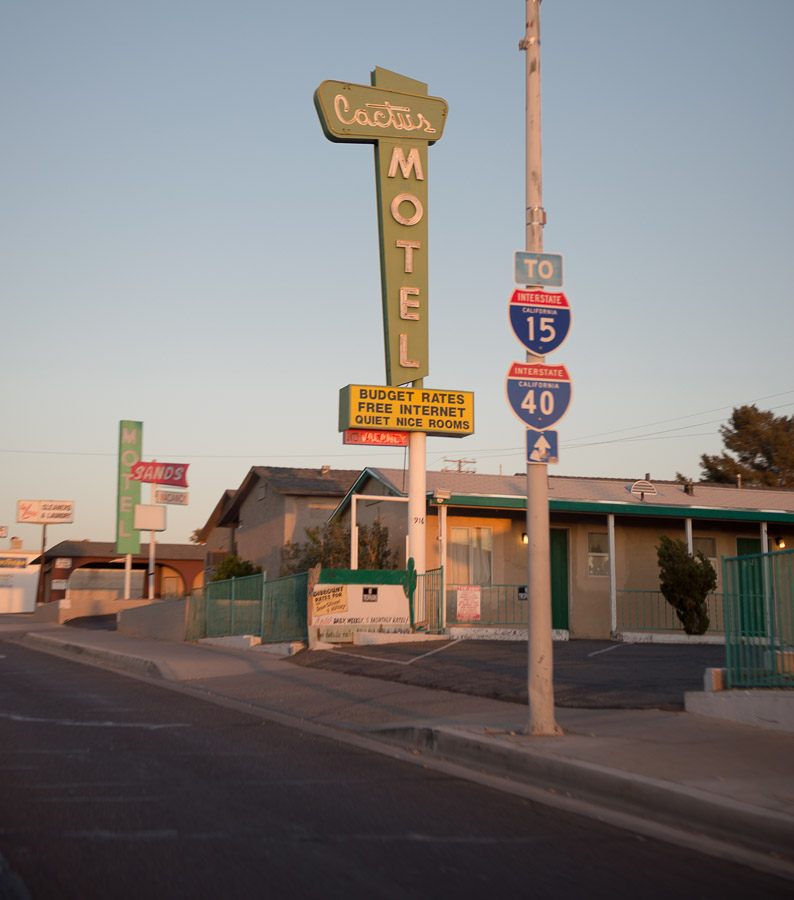 Nikon D600, ISO 100, ƒ/2.8, 1/125sec, 50mm focal L., ~1.3mi from prev photo, map
We landed upon a rather odd Italian restaurant. We should have known better than to be lured by neon.
Italian mash up — More neon does not equal better food.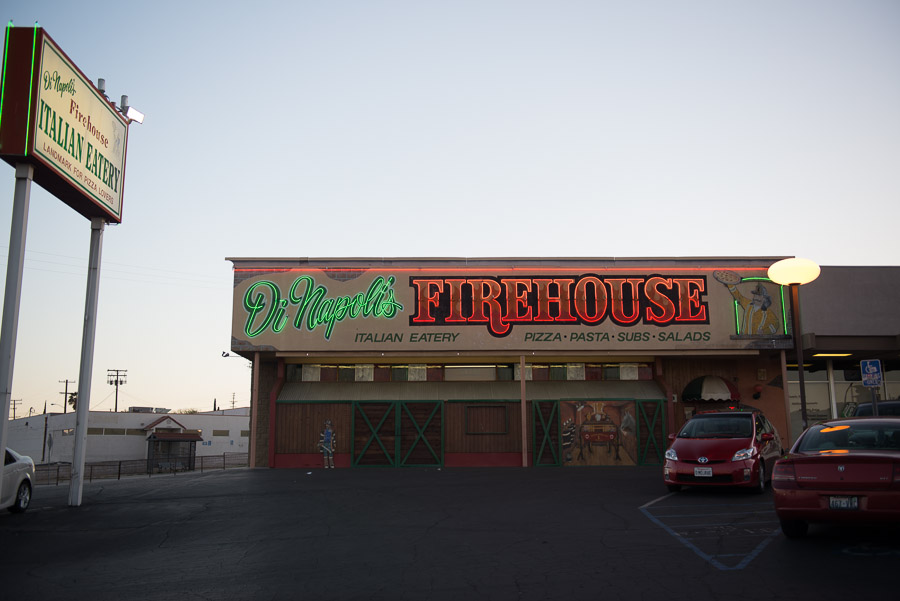 Nikon D600, ISO 110, ƒ/2.8, 1/50sec, 35mm focal L., ~0.6mi from prev photo, map, @ 30 MPH
It was long dark after we finished dinner and there were still a couple of hours to go to make Needles. Since there's not much to see of the old road in the dark, we made the fast burn down the detested I40.
Three's a crowd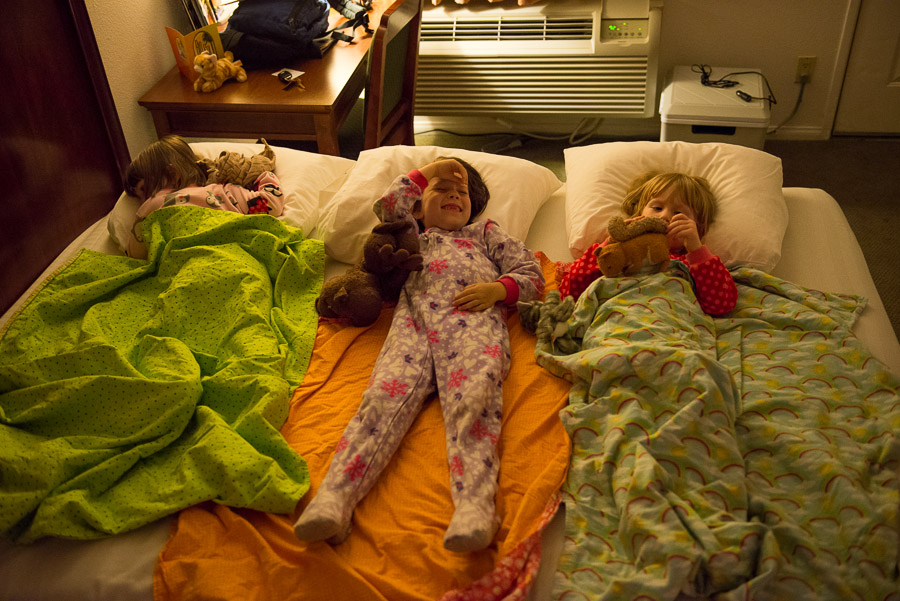 Nikon D600, ISO 4000, ƒ/2.8, 1/50sec, 36mm focal L., ~135mi from prev photo, map
The o'dark thirty wake up in the morning left three tired girls that sacked out in the back. Arriving in Needles, the Rio Del Sol Inn hadn't given up on us and obliged us a room for the night — turned out to be one of the better price/quality ratio places we stayed. The sideways sleeping arrangement for the girls, however, was not the best solution, considering we had a travel air mattress in the car. Poor Stella fell off the bed several times…