Epilogue
For those just finding this, jump to the beginning, or any other day: 1, 2, 3, 4, 5, 6 & 7, 8, 9 & 10, 11 & 12, 13, 14, 15, 22.
Home sweet home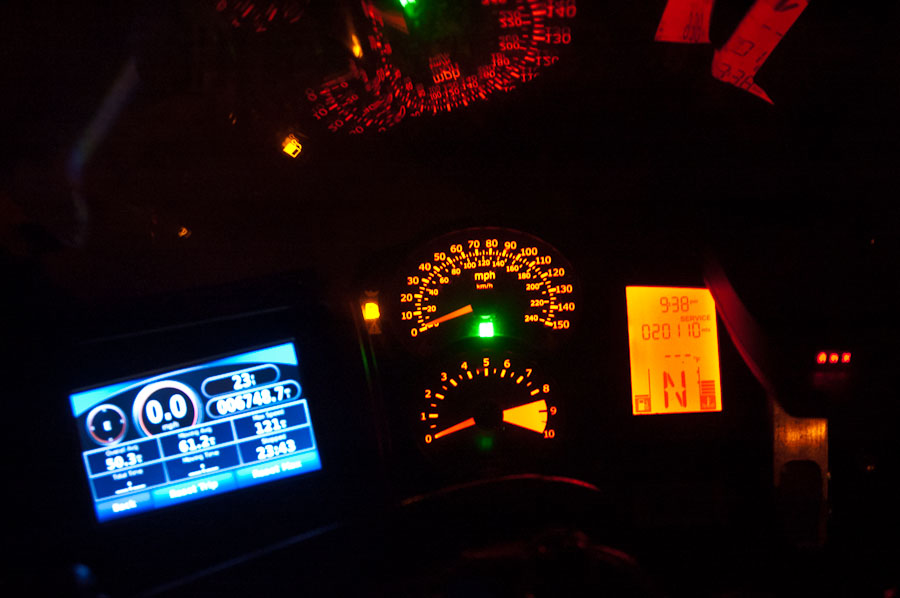 Nikon D70, ISO 800, ƒ/3.5, 1.6sec, 18mm focal L.
Miles on the odometer: 6964
Fill-ups: 45 — average of 155 miles/tank
Gallons: 129.0 — an average of 54.0 miles/gallon
Dollars spent on dead dinos: $391.17 — an average of $3.03 per gallon
The best roads of the trip:

[click to go to an interactive map]
This was the first trip with a radar detector. I had it wired into the audio system so I could easily hear it at any speed. I chose the Escort Redline because it is supposedly one of the most sensitive detectors available, for which to pick up the faintest signal in the middle of nowhere and give the best chances of getting a warning. Of course, nothing is perfect, but, it definitely saved my bacon a few times.
As I type this, Airventure 2011 is in full swing and I'm sitting at my kitchen table listening to the pitter patter of chill'ns feet scampering around the house. While I always have the notion to hop on the bike and point it in some general direction, the only thing I'm missing right now is spending the time with my dad. A little trip through NorCal is in the works, but, that's for another ride report.
Until then, thanks for reading!
– Fin –