Day 6 & 7: Bumming around Plano, TX — 281 Miles
After 5 days in the saddle to get to my buddy's in Texas, what's the first thing that we do? Take off and do some riding, of course!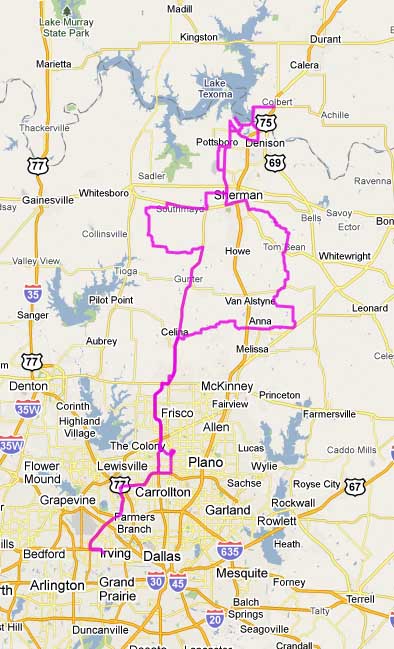 [click to go to an interactive map]
Clint's V-Max needed some TLC, so, he decided to rent a Harely for the day. Many jokes ensued about him becoming a stereotypical hog rider (from both of us), and he assured me it wasn't a sign of the direction his motorcycling was going.
Really, I have to hand it to Clint's expecting wife for being agreeable to Clint's moto riding, seeing's how a close family member of hers was killed on one. It was a sobering story and a reminder about the choices we all make when we throw a leg over and go for a ride.
Heading out of town to see the local sights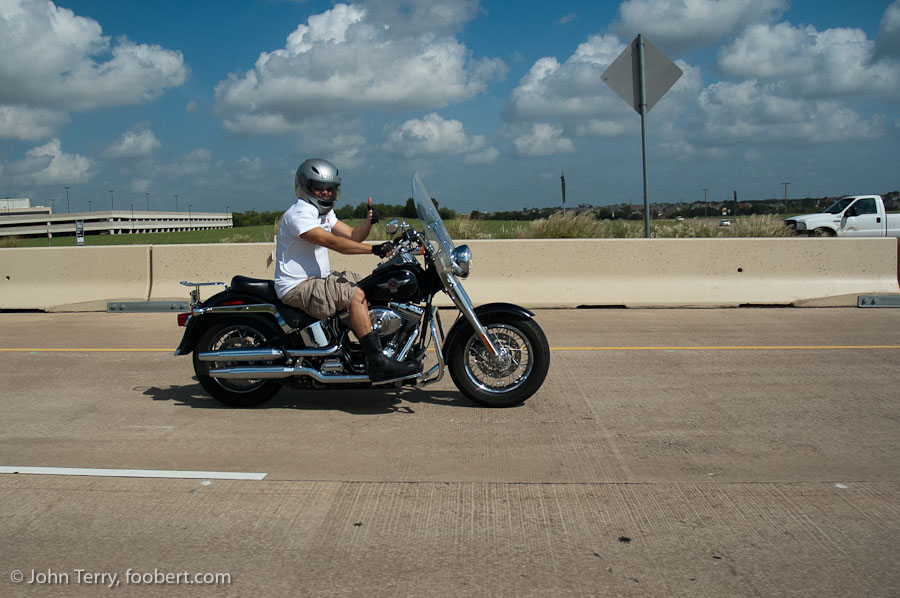 Nikon D70, ISO 500, ƒ/3.5, 1/3200sec, 18mm focal L. @73 MPH, map
One of the many random cool roads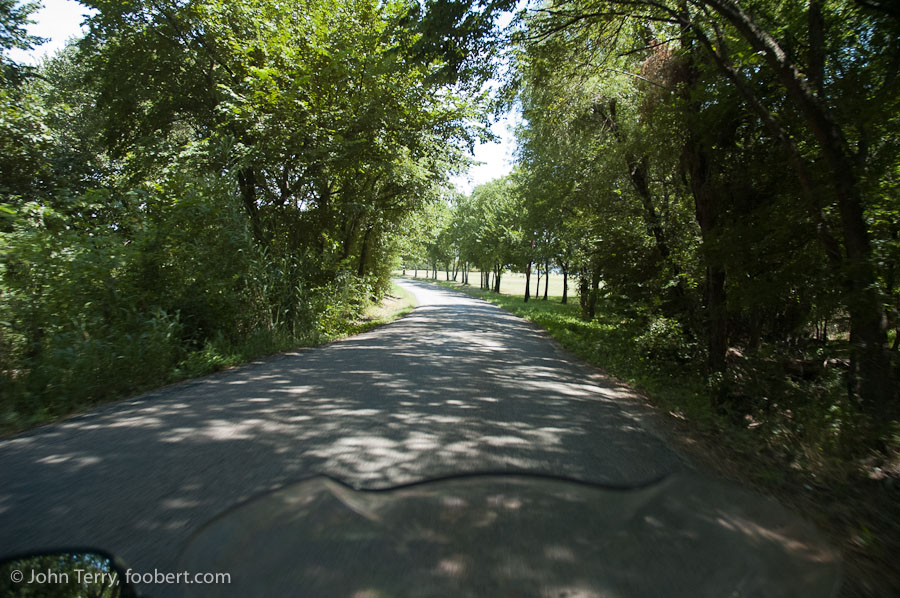 Nikon D70, ISO 500, ƒ/3.5, 1/200sec, 18mm focal L. @40 MPH, ~46mi from prev photo, map
We really didn't have any major destination for the day and generally were just heading north. Clint wanted to check out the camping situation at lake Texoma on the Texas Oklahoma border. While we were up there, there's a Cajun restaurant that made for a nice lunch spot.
I was pleasantly surprised by most of the random roads that we meandered our way on. There's very little reason for any of the roads to have curves, but, it turns out that many of the small roads are anything but straight as they cut their way around the various parcels of private property.
Days gone by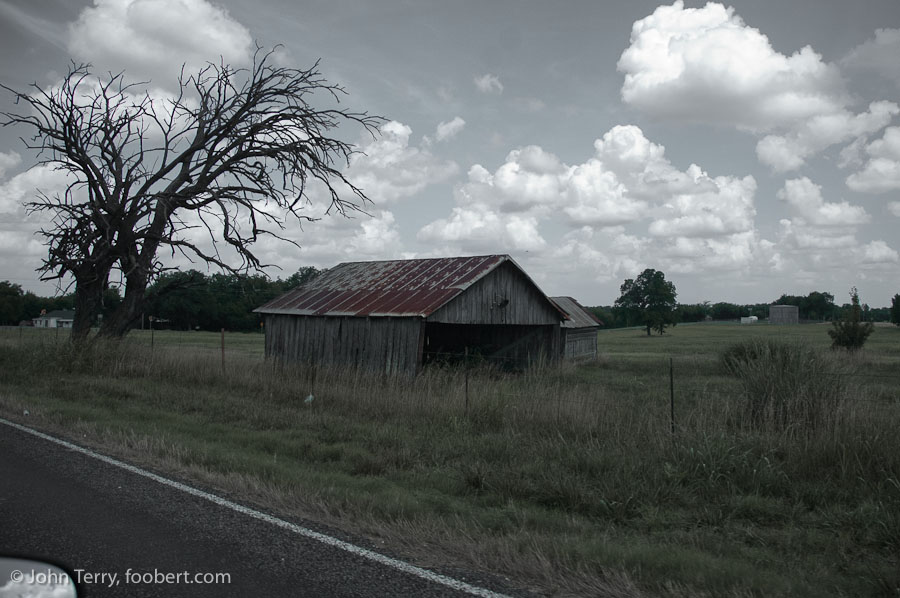 Nikon D70, ISO 500, ƒ/3.5, 1/1250sec, 18mm focal L. @36 MPH, ~11mi from prev photo, map
Woof, I can't imagine that gauge registering, even toward the bottom of the scale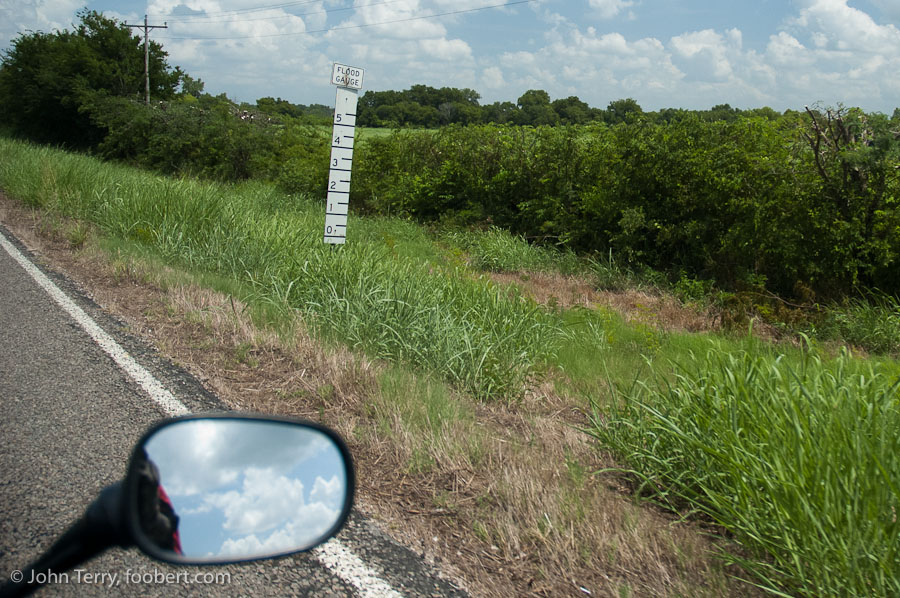 Nikon D70, ISO 500, ƒ/3.5, 1/1250sec, 18mm focal L. @30 MPH, ~1.4mi from prev photo, map
Checking out a potential camping place on Lake Texoma


Nikon D70, ISO 500, ƒ/4.0, 1/500sec, 31mm focal L., ~16mi from prev photo, map
Riding over the spill way of Denison Dam — Must be quite a sight when it's so full to be running over.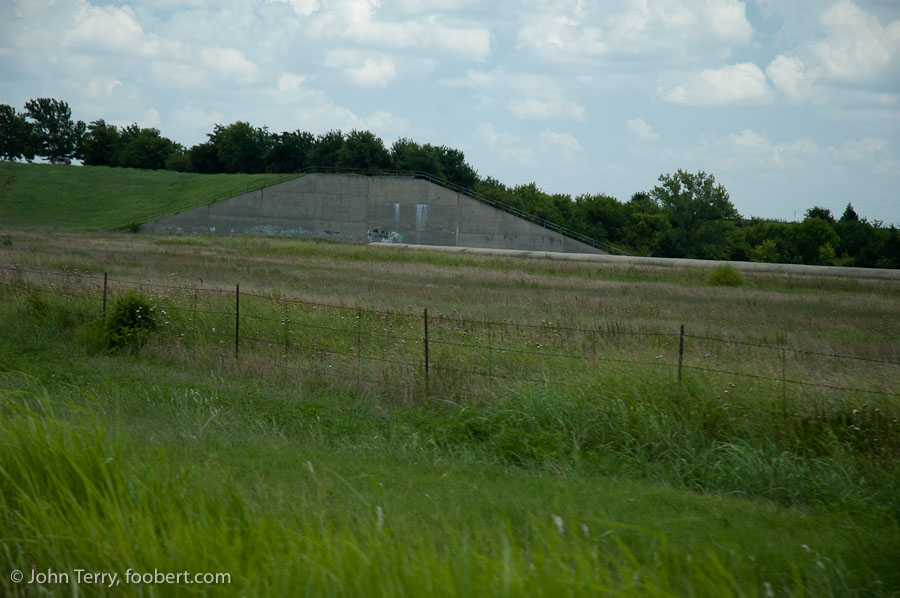 Nikon D70, ISO 500, ƒ/4.5, 1/500sec, 70mm focal L. @34 MPH, ~2.8mi from prev photo, map
The Denison Dam creates lake Texoma and was built in 1943. At the time, it was the largest earthen dam of its type. The spillway that we rode through (above) is 25′ above the level of the "conservation pool" where reservoir is typically maintained at and flood waters have only spilled over 3 times since the dam was built. The volume of the reservoir more than doubles when the upper 25′ are filled, but, it "only" takes 1.5 inches of rain over the drainage basin to fill it to the spillway.
Surge tanks to smooth pressure in the penstocks leading to the powerhouse.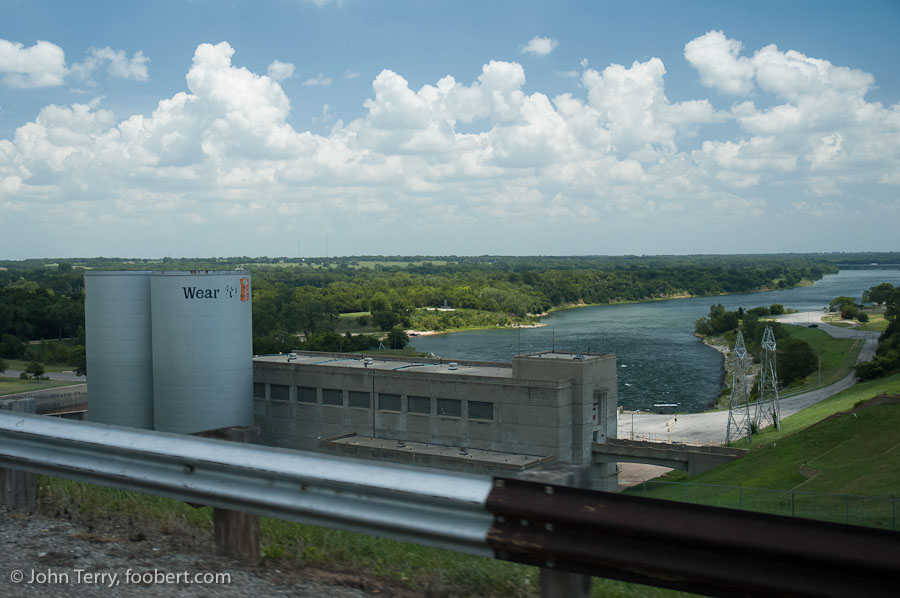 Nikon D70, ISO 500, ƒ/3.8, 1/800sec, 27mm focal L. @42 MPH, ~0.4mi from prev photo, map
Penstock inlet gates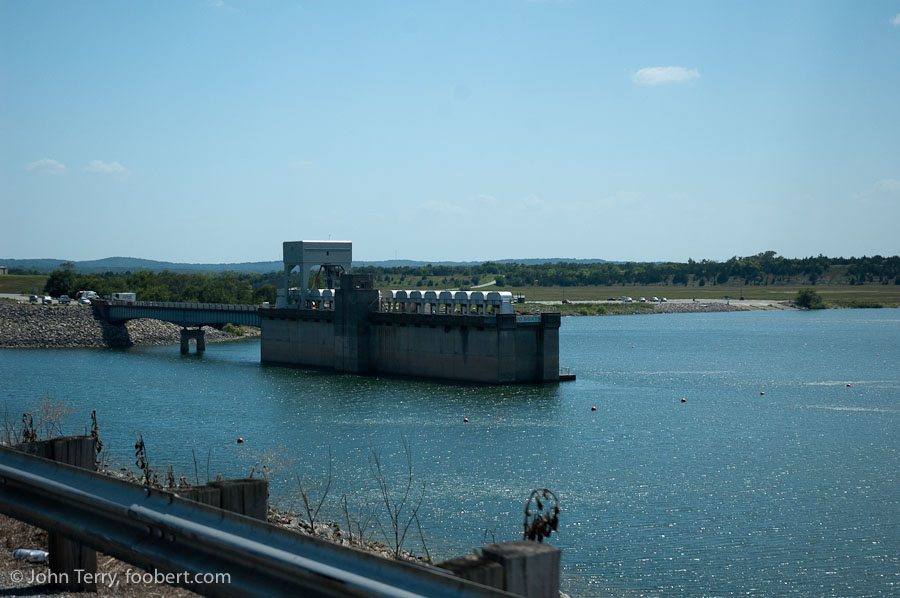 Nikon D70, ISO 500, ƒ/4.5, 1/1250sec, 40mm focal L. @54 MPH, ~0.3mi from prev photo, map
Interesting word choice — almost makes them seem like a good thing…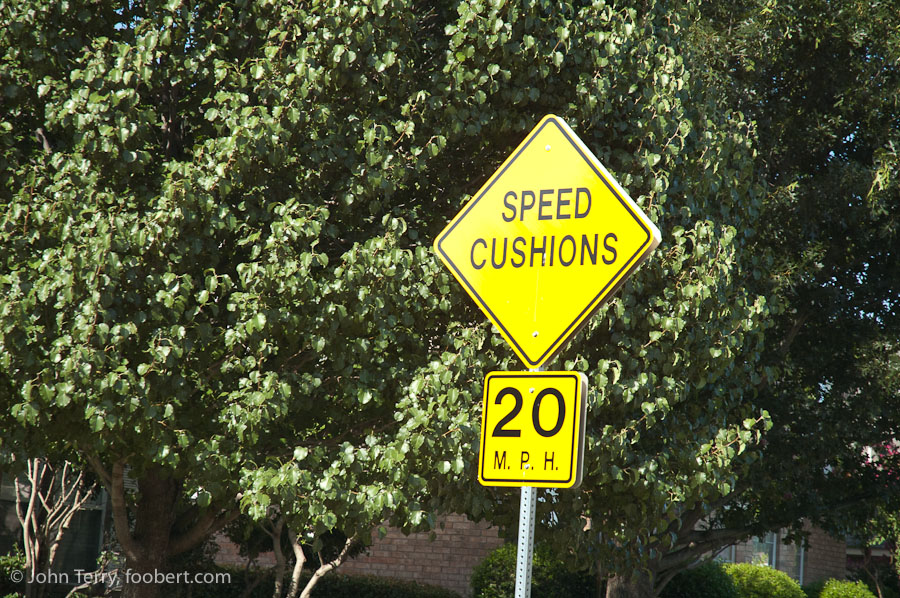 Nikon D70, ISO 500, ƒ/5.0, 1/250sec, 70mm focal L. @15 MPH, ~54mi from prev photo, map
The next day, Clint had a court date scheduled to deal with an issue with one of his tenants. Truth be told, I was all to happy to tag along and witness the proceedings. I'll refrain from airing all the details, even though it is part of public record. But, the highlights were:
Clint gave payment history, rental agreement and a list of property damages.
Defendants gave a lengthy sob story, effectively calling Clint a liar in the process. The judge sat stoned faced; completely motionless with his chin propped up on the bench and waited patiently until they had nothing further to say.
Judge: "Well, it's obvious there's hard feelings between you, but, I'm not in the feelings business." The judge looks over to the defendants, "I've just got one question for you. Are you behind on paying the rent?"
Defendants: "yes, we are."
And before they could say another word, the judge picks up the gavel and says, "the court sides with the plaintiff. Defendants are to pay $xxxx …" followed by a modest, yet firm strike of the gavel to drive the point home.
Here's a tip: if you don't pay your rent, the court doesn't really care about all the rest.
Court date — artist's conception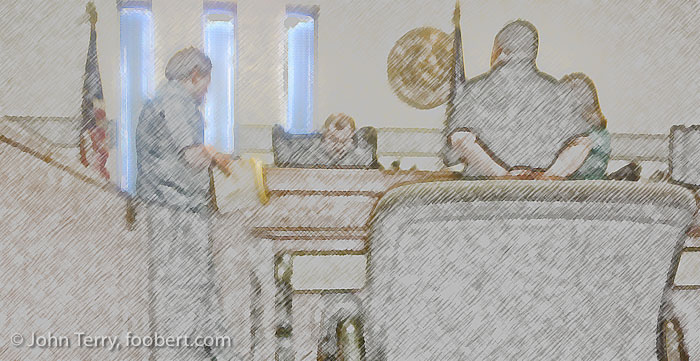 With a free afternoon, I took the opportunity to do some maintenance on the bike. It was due for an oil change, which I was able to take care of in Clint's garage. My rear tire had 7600 miles on it and it certainly wasn't going to make it through the rest of the trip. If I was riding around home, I'd have waited a little longer, but, the timing was good to get it out of the way. I got all lazy and took it to Dallas BMW for the change. They were kind enough to price match the best local price (Cycle Gear) and were able get it into the shop on-the-spot.
Re'tire'ment time — not so many miles left on it…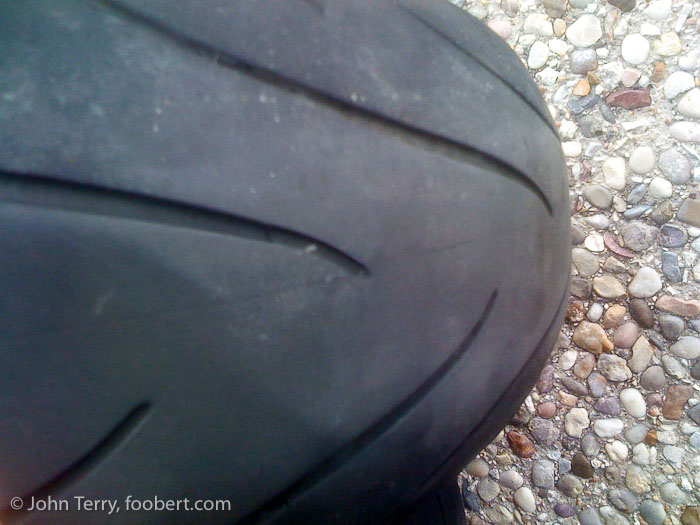 iPhone, map
While it wasn't cheep, I used the time at the dealership to gather pointers on good roads to take on the next day's trip to Memphis.
Thank you, Clint, for being such a great host!