And so begins the tale of what turned into a 7K mile motorcycle adventure on my trusty 2008 BMW F800ST. The "final" destination is Oshkosh, WI to catch the big airshow that happens each year around the end of July. Some of you may be thinking this all sounds so familiar, but, with an extra week, 40% more miles, better roads, more solo time, more destinations, and … Let's just say turned into a much different trip for me than the prior year's adventure.
For quick navigation, jump to day:1, 2, 3, 4, 5, 6 & 7, 8, 9 & 10, 11 & 12, 13, 14, 15, 22.
The route — a little teaser of what's to come ….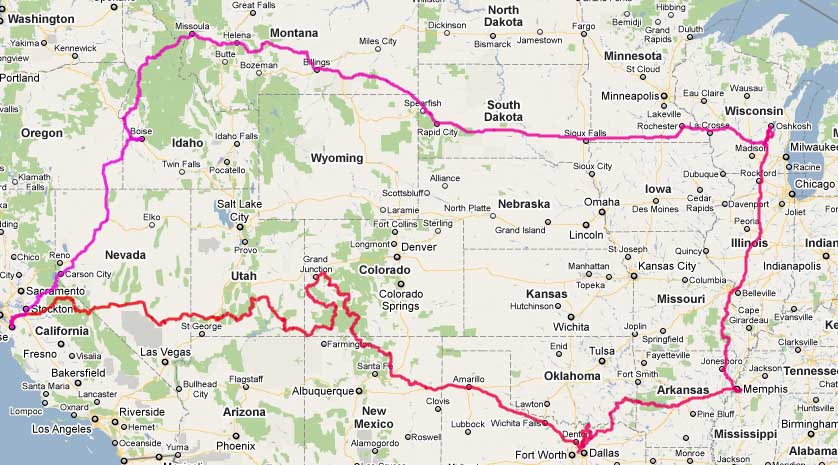 [click to go to an interactive map]
The general plan is to tour around CO, head down to the Dallas area to visit a friend, meet my dad in Memphis and hang out there for a day, and then the two of us head up to Oshkosh for the air show. After the show, we'll turn west and to Idaho to join up with the rest of my extended family and meet up with my wife and kids to hang out for a week. About 3 weeks after it all started, we'll then head back to CA.
Day 1: San Jose, CA to Tonopah, NV — 370 Miles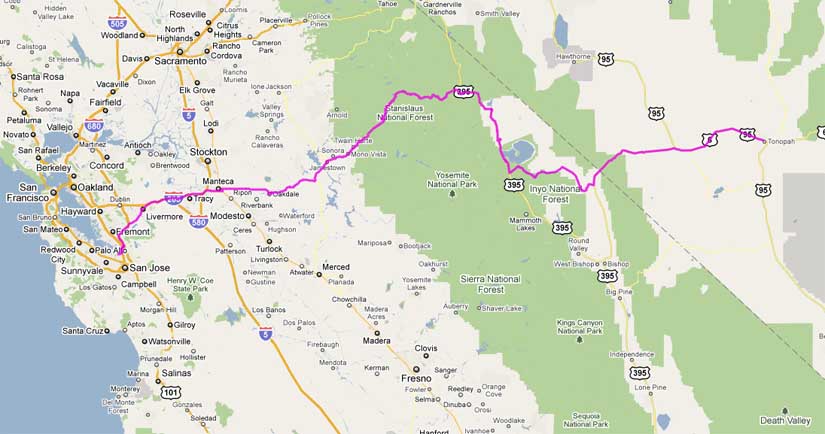 [click to go to an interactive map]
The previous weeks were preoccupied by scheming routes that would pack the most into the days of freedom from work and the regular routine of life. Friday, July 16th had finally arrived. After tying up the last fews ends at work, I met up with my wife and 3 girls for a quick lunch before hitting the road. I couldn't help but feel guilty for abandoning them in the most selfish of ways in order to chase the winds of the open road.
Quick lunch with the family — One last chance to see by wife and 3 girls before hitting the road.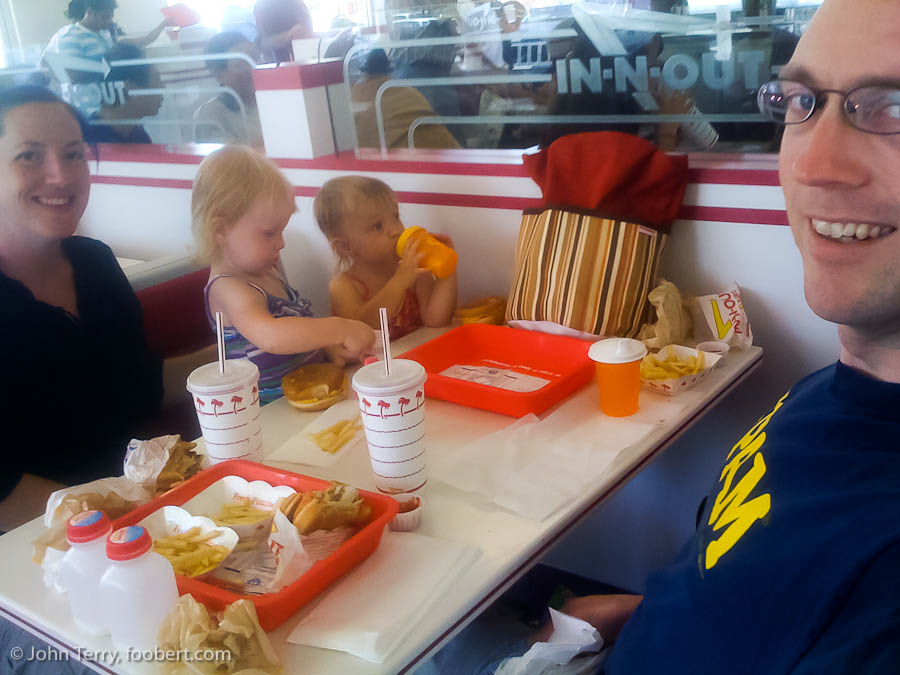 iPhone, map
After saying goodbyes and promising to be safe, and call, and have fun while still being safe — I was off with just one last niggling detail to take care of: find a gas station.
There were some surface streets along the way get to the freeway and surely one would have a station. And, indeed there was; but the station wasn't on on my side of the street, so, I just kept on going rather than waste time with U-turns and backtracking. Hmmm, the fuel computer claimed there's 3 miles of gas left in the tank, but, it's always erred on the conservative side, so, there must be another station around the corner.
Wrong! A mile past the gas station that I should have stopped at, the bike dies. There is no sinking feeling of stupidity quite like that of trying to save a few seconds and instead wasting almost an hour pushing the bike to the nearest gas station that I had just passed.
While pushing the bike through one intersection, the crosswalk timer had expired and the light was about to turn green enabling a dozen anxious cars to barrel through my path. At the same time, the strap holding my helmet onto the bike gave way and I hear that sickening sound of fiberglass bouncing on pavement as it goes sailing into the middle of the intersection. As if I was unaware of this, some folks started honking and pointing to get my attention. The light turned green just as I got to the side of road with the kickstand down. Thankfully, the cars spared me from a real game of Frogger while running into the middle of the intersection to retrieve my freshly scratched helmet.
Pushing a bike gives plenty of time to reflect and I couldn't shake that nagging feeling about this rather inauspicious beginning of the trip. To add insult to injury, my well timed departure was delayed enough to coincide with the miserable Bay Area Friday flee (read: parking lot) heading over the Altamont pass.
The first of the twisties — Finally have the central valley behind me…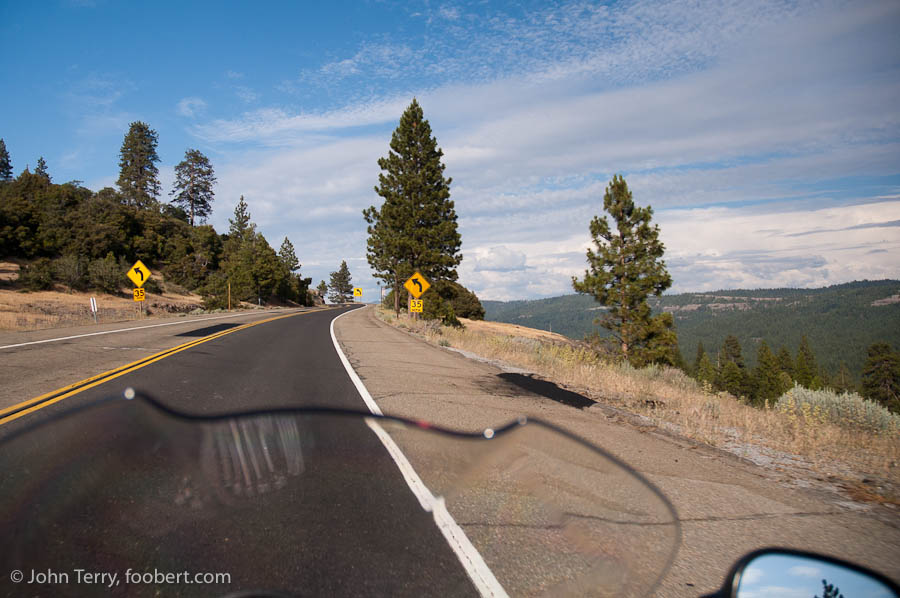 Nikon D70, ISO 200, ƒ/3.5, 1sec, 18mm focal L. @66 MPH, ~111mi from prev photo, map
The Central Valley was in typical form for mid July with the temperature peaking out at 106˚F according to bike's thermometer — there's just nothing fun or interesting about getting across the salad bowl of California. But, the payoff comes on the other side when starting up the hills, the intense smell of pine forests put a smile inside my helmet. When the traffic disappeared past the town of Strawberry and I had Sonora pass to myself, the smile was all grin. The pavement was in good condition with the only worries being the gravel kicked into the sharpest of the corners from RV's cutting the corners.
CA 108 — Sonora pass is my favorite way to get over the Sierras.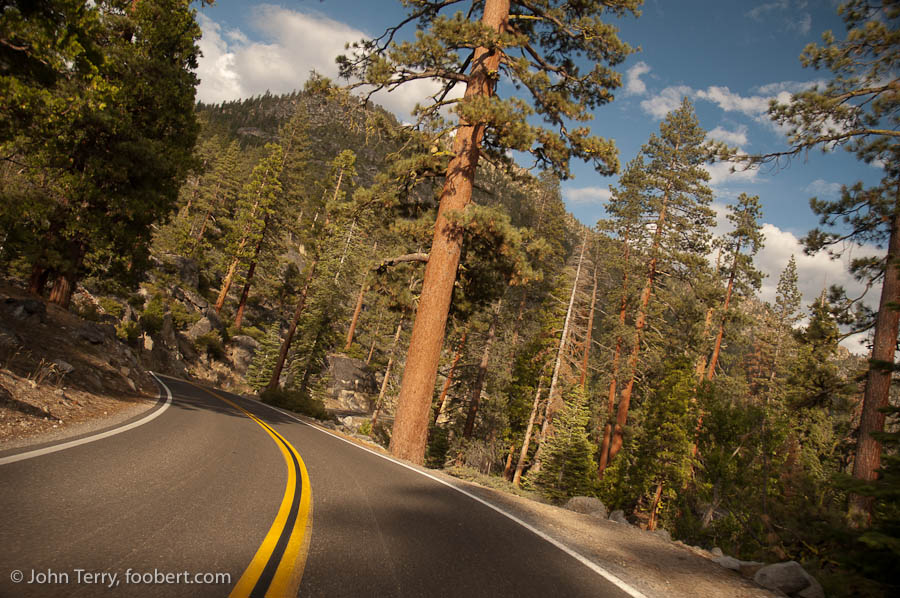 Nikon D70, ISO 200, ƒ/3.5, 1/400sec, 18mm focal L. @40 MPH, ~22mi from prev photo, map
CA 108 — 26% grade ahead! It's a real roller coaster.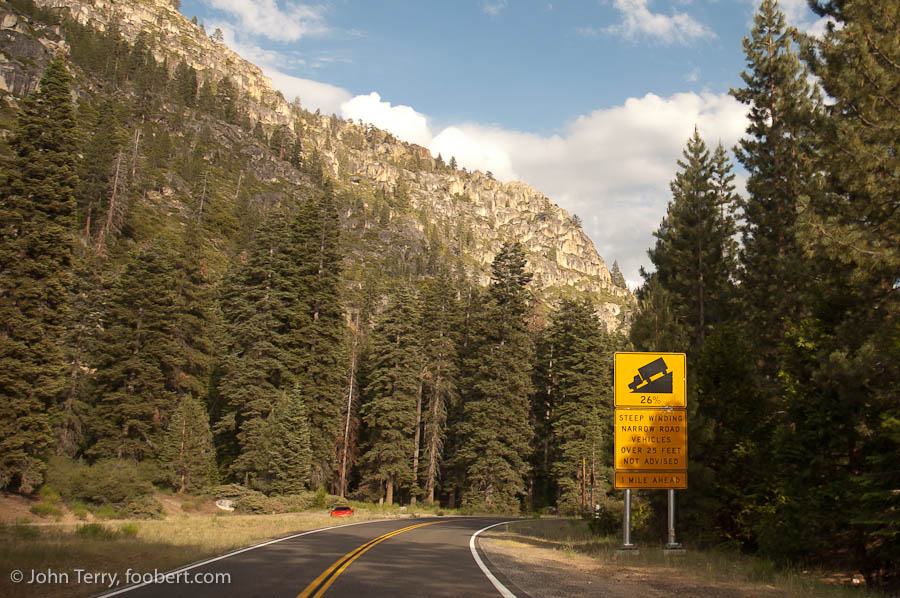 Nikon D70, ISO 200, ƒ/3.5, 1sec, 18mm focal L. @42 MPH, ~0.8mi from prev photo, map
CA 108 — The trees are really starting to thin out and the rocks are getting more baren.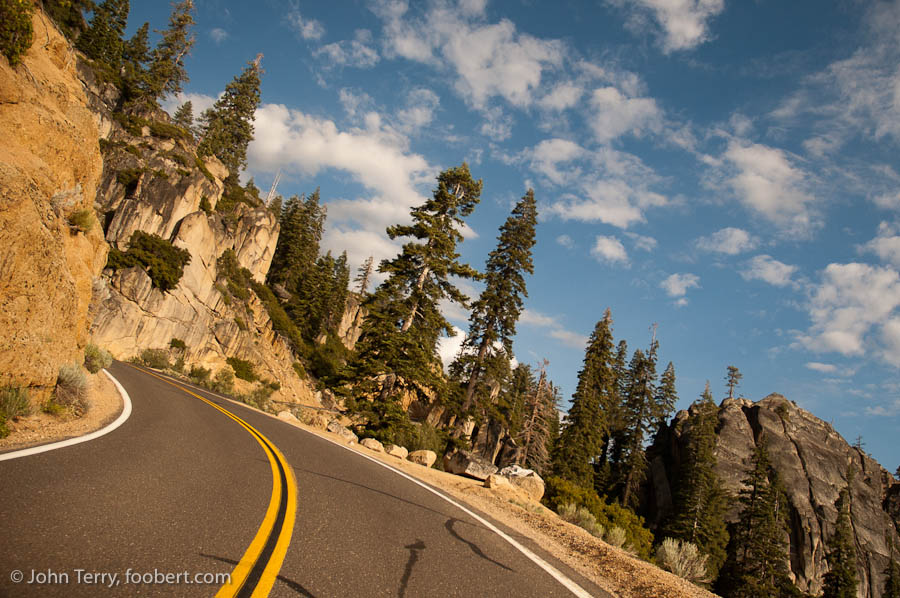 Nikon D70, ISO 200, ƒ/3.5, 1/800sec, 18mm focal L. @38 MPH, ~0.7mi from prev photo, map
The fun part of Sonora pass is that it is cut along a path that made it easy to build the road, but did almost nothing to make it an "easy" road to travel on. Well, that is, unless you're on cycle that loves corners and has enough pep to power through 10K ft elevations with ease — a naturally aspirated engine is only making ~2/3′s of the power it does at the at sea level (all else being equal).
CA 108 — Not the steepest section, but, getting there.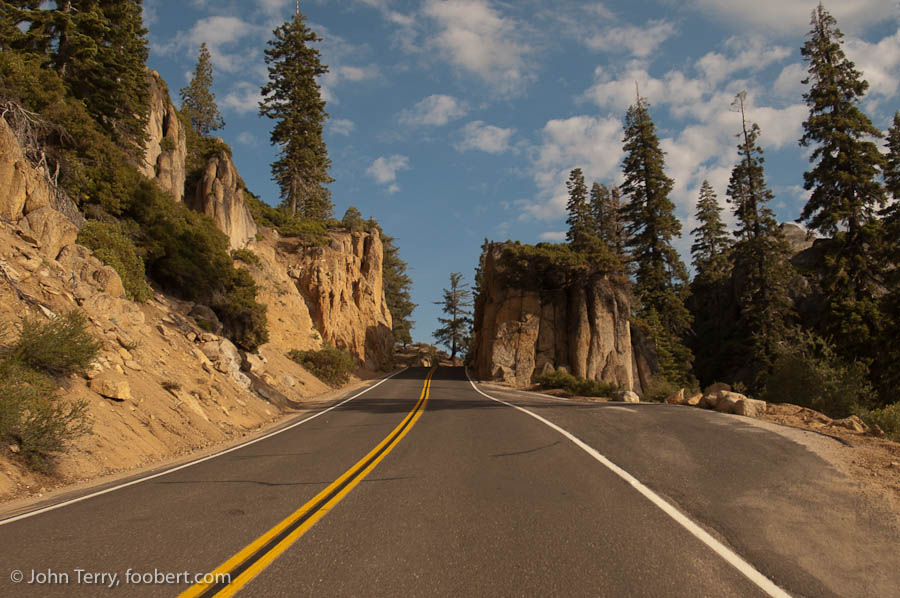 Nikon D70, ISO 200, ƒ/4.0, 1/500sec, 18mm focal L. @27 MPH, ~314ft from prev photomap
CA 108 — Getting close to the top.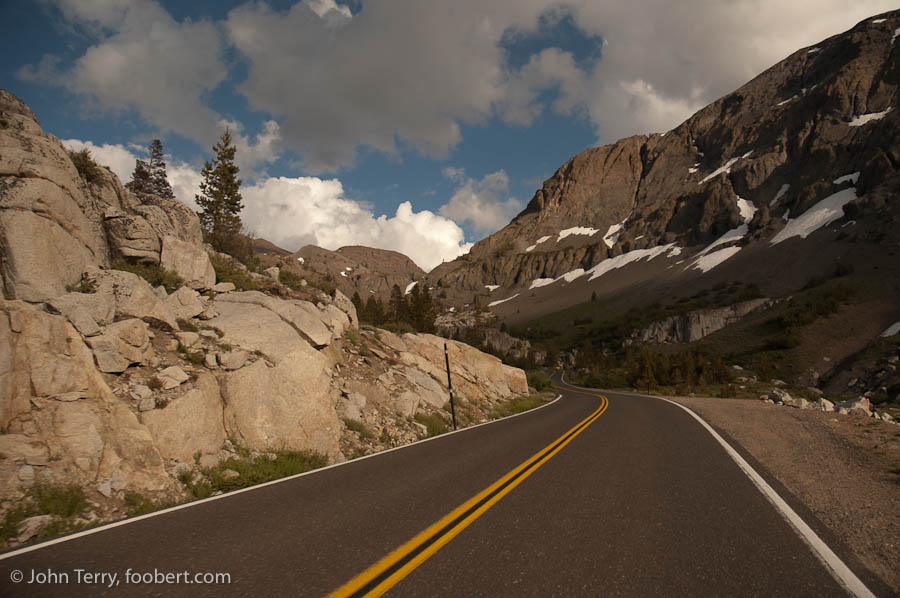 Nikon D70, ISO 200, ƒ/4.0, 18mm focal L. @45 MPH, ~3.9mi from prev photo, map
After this, I put the camera away and enjoyed the ride down. Always takes more focus going down, what with gravity doing all it can to keep the speed up for you, even if you don't want it.
CA 108 — Time to go down…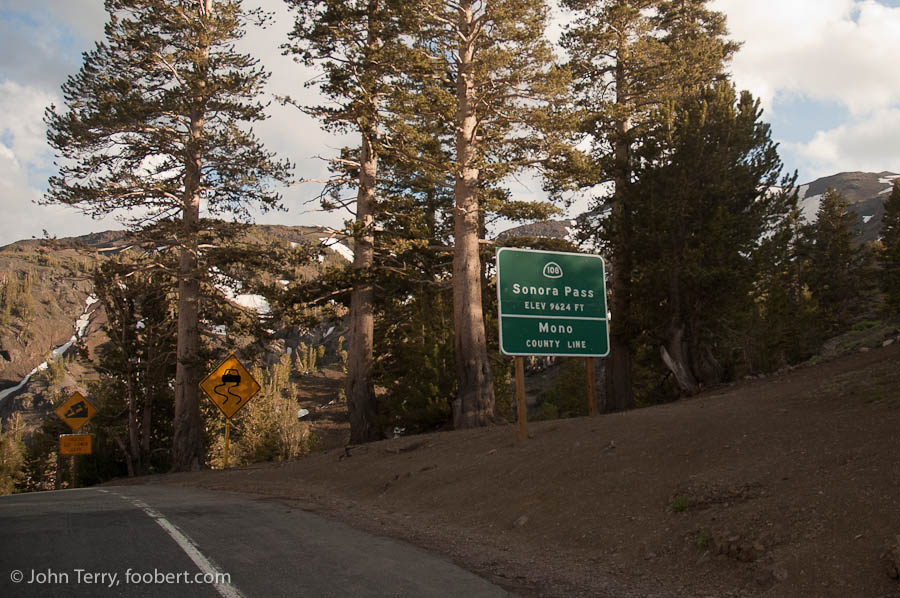 Nikon D70, ISO 200, ƒ/3.5, 1/320sec, 18mm focal L. @10 MPH, ~1.9mi from prev photo, map
At the bottom of the grade, just before getting to US 395, there's a Marine training complex complete with a short helicopter runway next to the road. Never once seen any action here, but, I suppose I've never made the trip during a weekday either.
CA 108 — USMC Mountain Warfare School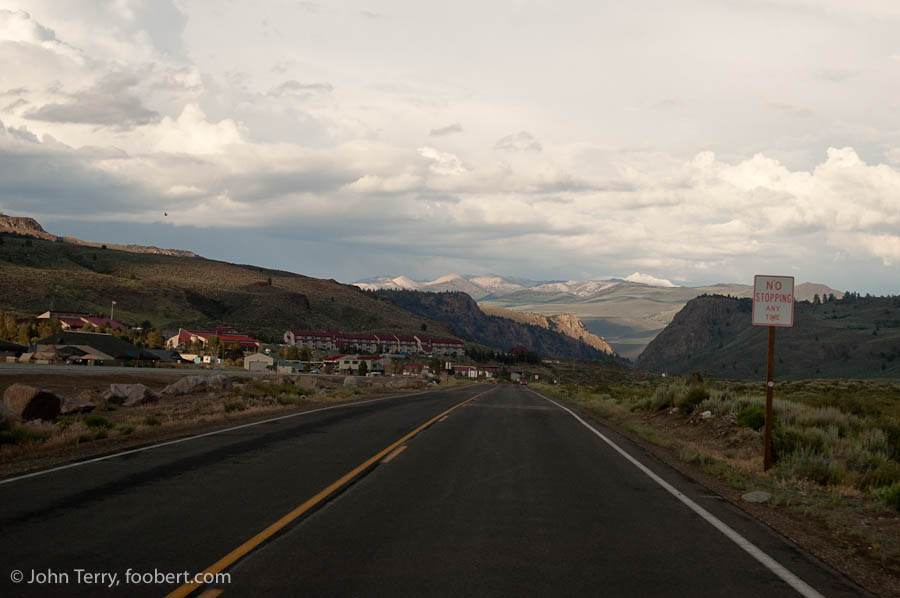 Nikon D70, ISO 200, ƒ/4.0, 1/640sec, 31mm focal L. @60 MPH, ~6.5mi from prev photo, map
US 395 — Just turned south off 108.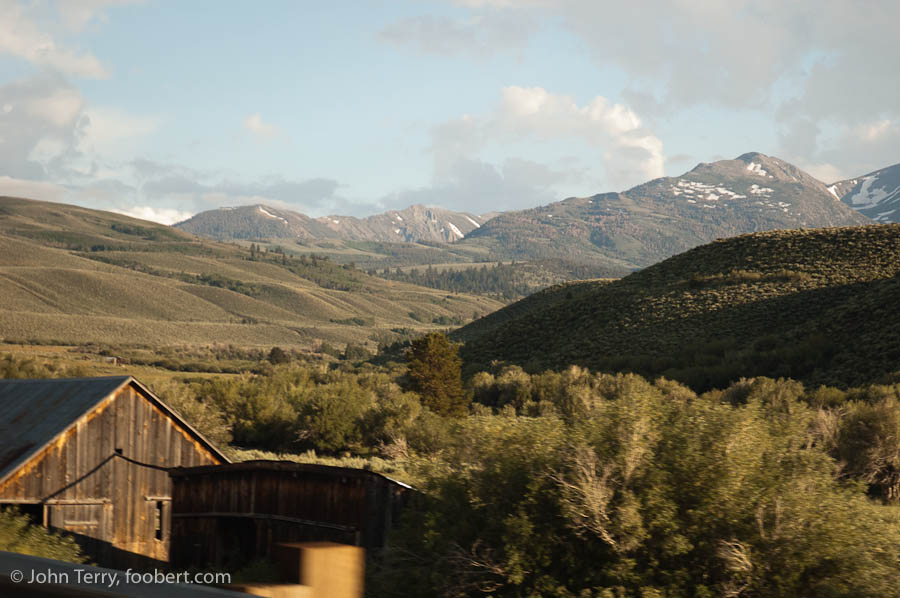 Nikon D70, ISO 500, ƒ/4.5, 1/400sec, 52mm focal L. @58 MPH, ~3.9mi from prev photo, map
Heading through Devil's Gate Pass — Picturesque place to build a house. Must be brutal in the winter…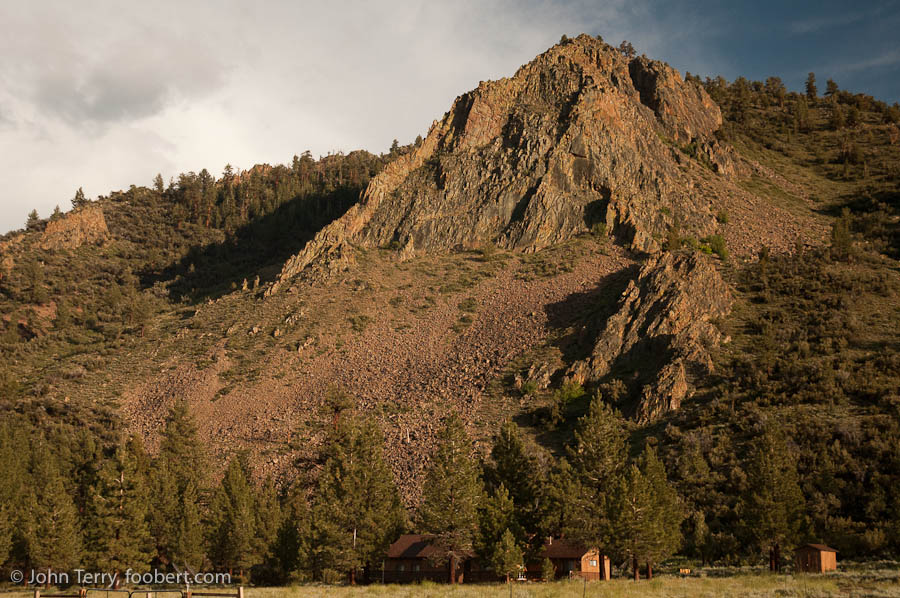 Nikon D70, ISO 500, ƒ/4.2, 1/1000sec, 34mm focal L. @74 MPH, ~4.5mi from prev photo, map
I'd come across patches of wet roads, but, never got any rain. Heading into Bryant, I was enjoying the rainbow left behind, even though the radar detector was pleading with me to slow down. Turns out, it was just a mobile "your speed is" trailer parked on the edge of town. But, there is a CHP shop in town, so, I wasn't taking any chances.
Spotty patches of rain — terrible picture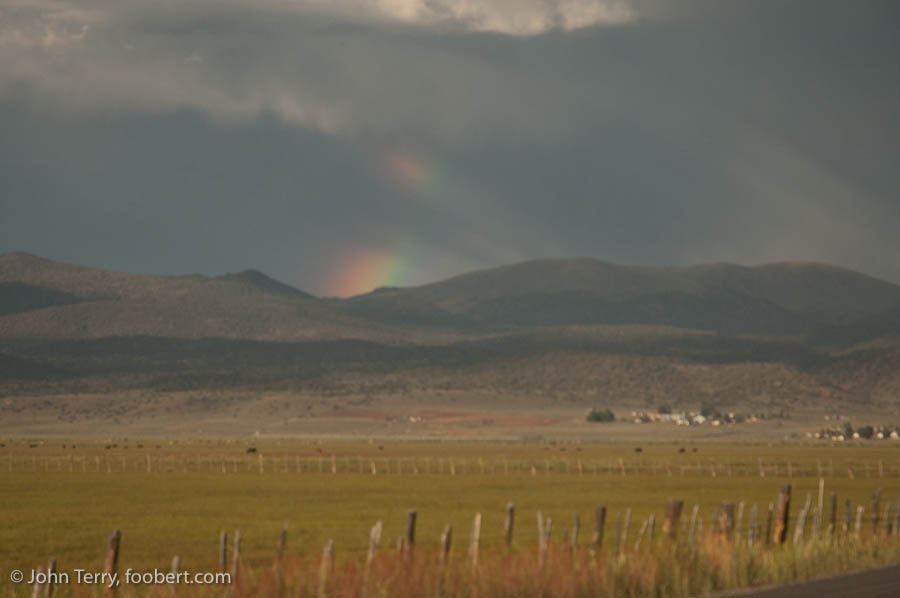 Nikon D70, ISO 500, ƒ/4.5, 1/1000sec, 70mm focal L. @61 MPH, ~8.6mi from prev photo, map
It was gett'n on 7:30 and lunch with the family had long faded away, especially after the unplanned exercise workout trying to get out of town. The fish tacos at "The Barn" were just what I needed. When I ordered, the price came up a wee spot more than I expected and after inquiring about it, the response was a dismissive, "it's this price plus some tax" and a what's-your-problem attitude. OK, whatever, here's the money, don't expect me to rattle that tip jar.
When I went to pick the order, there was 57 cents next to my basket of tacos and an apology to boot. The tacos were delish and earned them a tip after all.
Dinner stop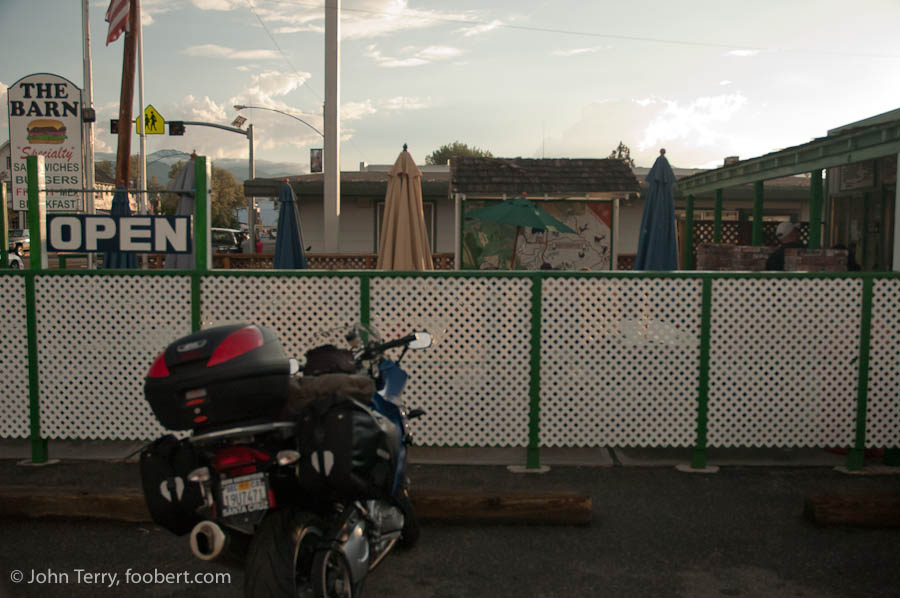 Nikon D70, ISO 500, ƒ/3.8, 1/1000sec, 22mm focal L. ~1.9mi from prev photo, map
Heading east on CA 120 past Mono Lake is a great stretch of road that I rolled during the previous year's trip. It was quite different at night. I don't much care for riding beyond what the lights can safely show in time to handle unexpected obstacles and it's taxing to stay focused when the only thing visible is black tarmac and a few mesmerizing stripes painted on it.
Evening colors — The last of the evening light hits the clouds for a warming good night.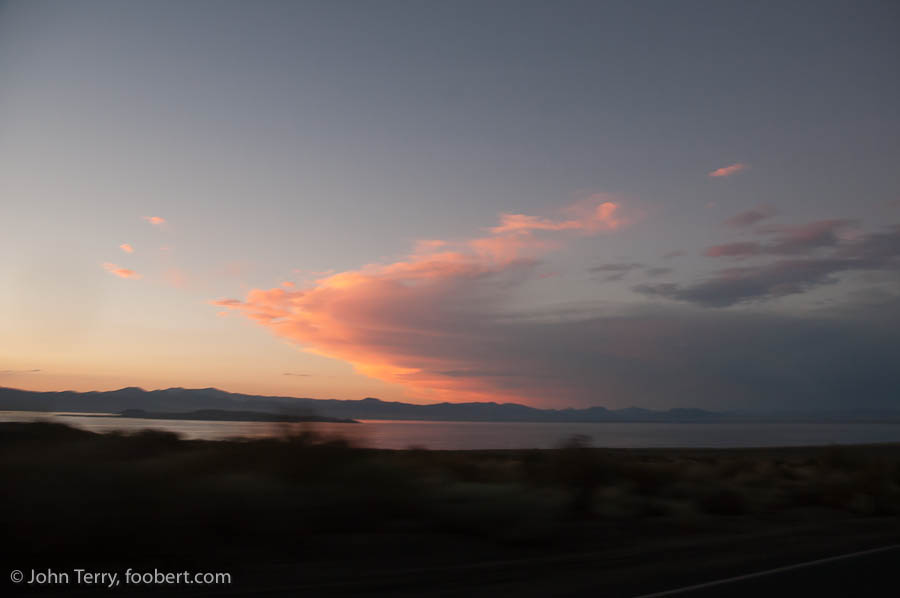 Nikon D70, ISO 500, ƒ/4.5, 1/30sec, 18mm focal L. @53 MPH, ~25mi from prev photo, map
There's very little on the way to Tonopah and it was a very dark night roll'n through the desert. I never really spooked myself, but, neither was it relaxing in any way. Quite frankly, arriving into my planned destination of Tonopah around 10:30 was one of the few times I was really glad to be done riding for the day.
Drink'n alone, tonight — After the late push through the dessert, it was more than the beer making my eyes blurry.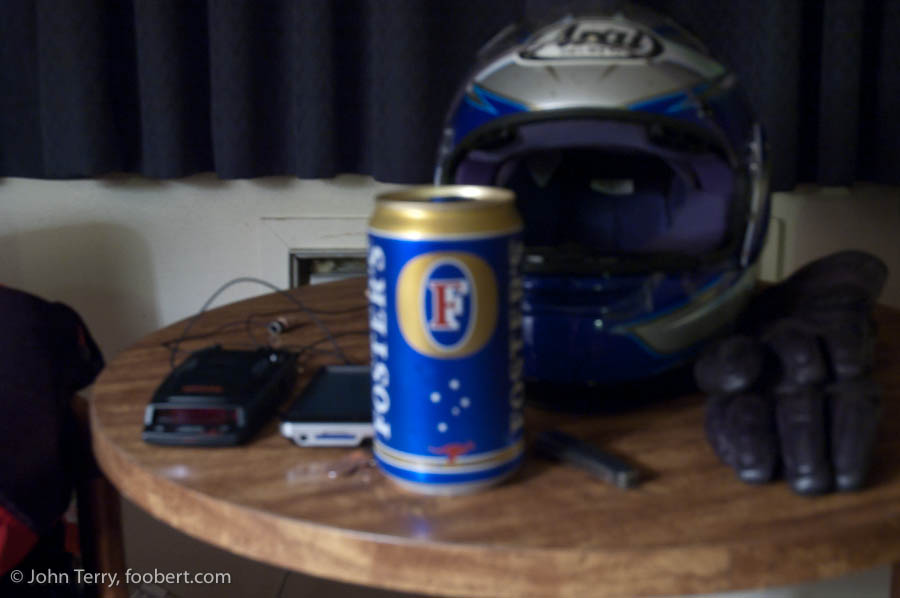 Nikon D70, ISO 800, ƒ/5.6, 0.6sec, 25mm focal L. ~98mi from prev photo, map
The National 9 motel looked to be a reasonable enough place on the outside, but, the price of $39.23 (inclusive of tax) was low enough to think twice about moving on down the road to see what else Tonopah had to offer. It turned out it wasn't half as scary as I'd have guessed it would be and I actually managed a good night's rest.