Our first morning on the island was dominated by jet lag. Kids on regimented sleeping schedule suffer jet lag even worse than adults. Even though they went to bed at 10PM home time (2+ hours later than normal), that first morning they woke up promptly at their regular 7:30 time, which was 4:30 local time! With the pitch darkness, we managed to get them back in bed, but, by 5:30 the wee beasties had had enough and the stampede began.
Welcome to vacationing with small chil'ns. Next time, we're going east so the 'rents can sleep in.
Elise woke up happy to be on vacation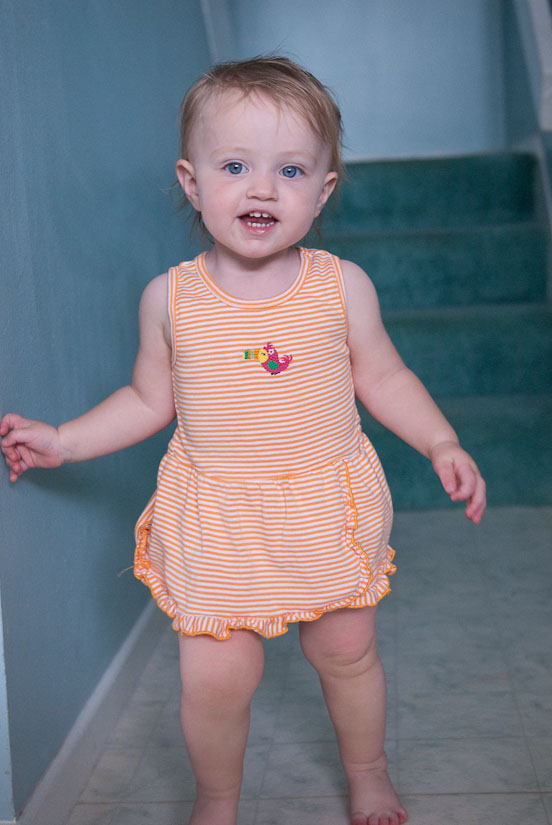 NIKON D200, ISO 640, ƒ/2.8, 1/250sec, 38mm focal L., map
A quick pancake breakfast and some fresh roasted Kuaia coffee and the whole family was smiles.
And, Valerie found happiness after breaky.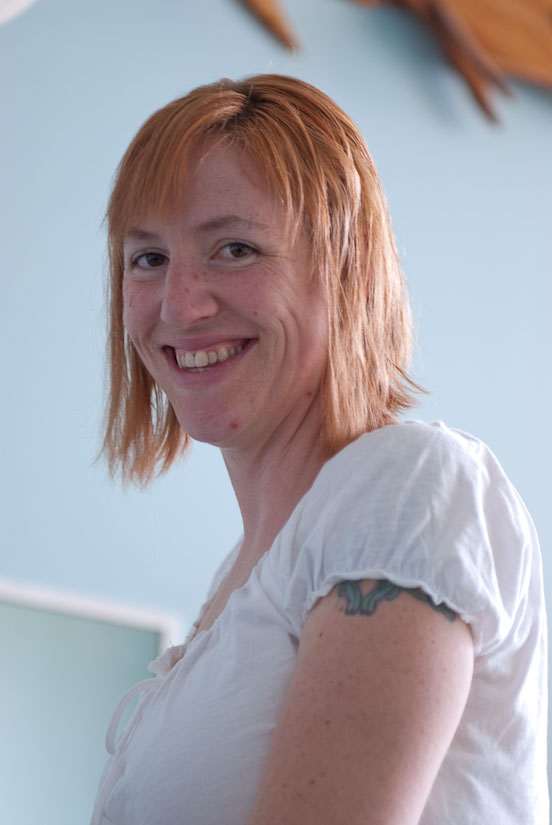 NIKON D200, ISO 200, ƒ/2.8, 1/50sec, 70mm focal L., map
The kids were still intrigued with the idea of toys in a back pack. After the novelty of the stairs wore off, the backpacks kept them nicely occupied.
Maia went straight for the ponies — and, Strawberry Shortcake, too.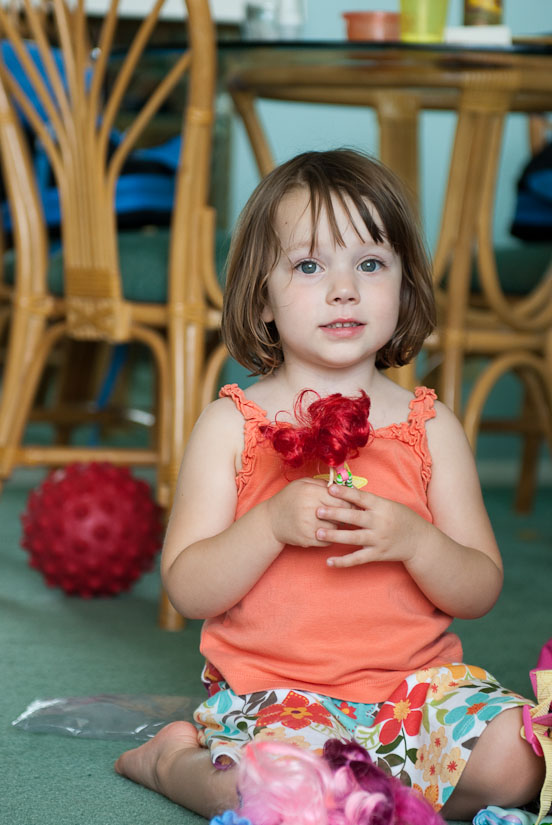 NIKON D200, ISO 200, ƒ/2.8, 1/125sec, 70mm focal L., map
Elise strikes an easy breezy island pose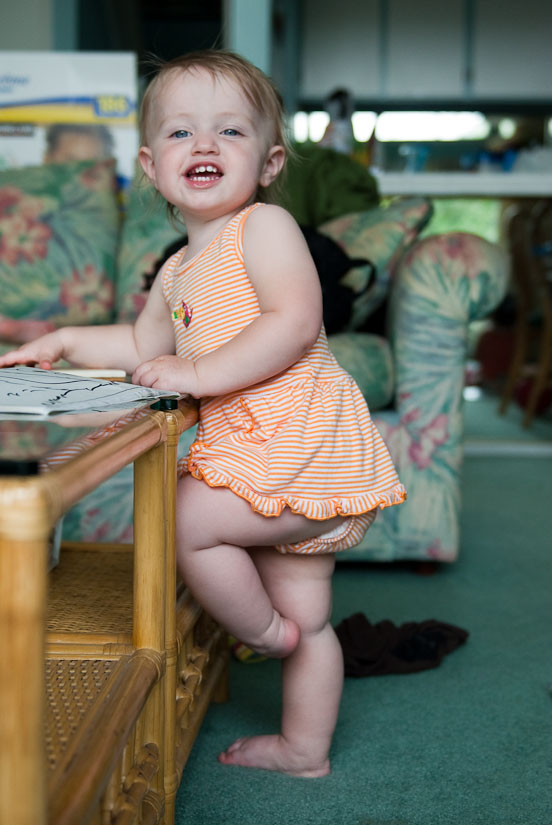 NIKON D200, ISO 200, ƒ/2.8, 1/400sec, 35mm focal L., map
The condo was fairly toddler proof. They kids just loved the stairs — it was like having a jungle gym in the house. But, some these coasters and some other small nick-nacks had to be moved out of reach.
And, Stella goes for trouble — the coasters proved irresistible.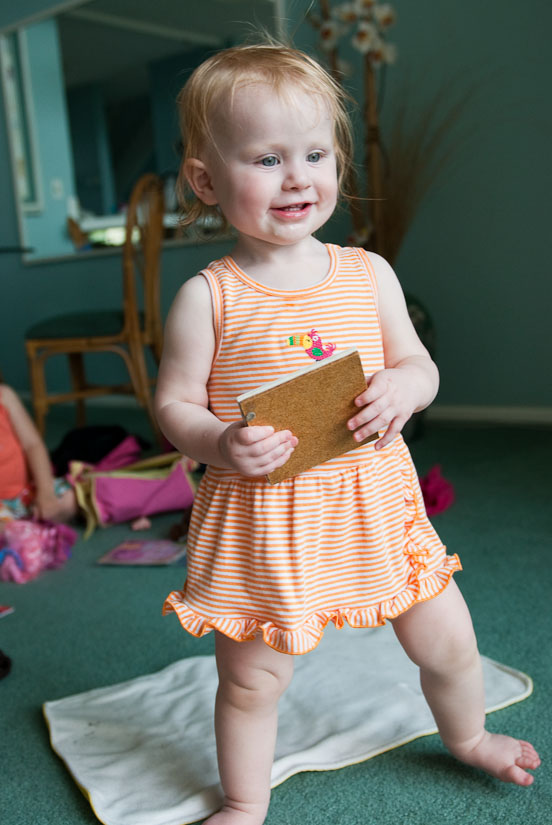 NIKON D200, ISO 200, ƒ/2.8, 1/320sec, 24mm focal L., map
Green eggs and ham, Elise, I am!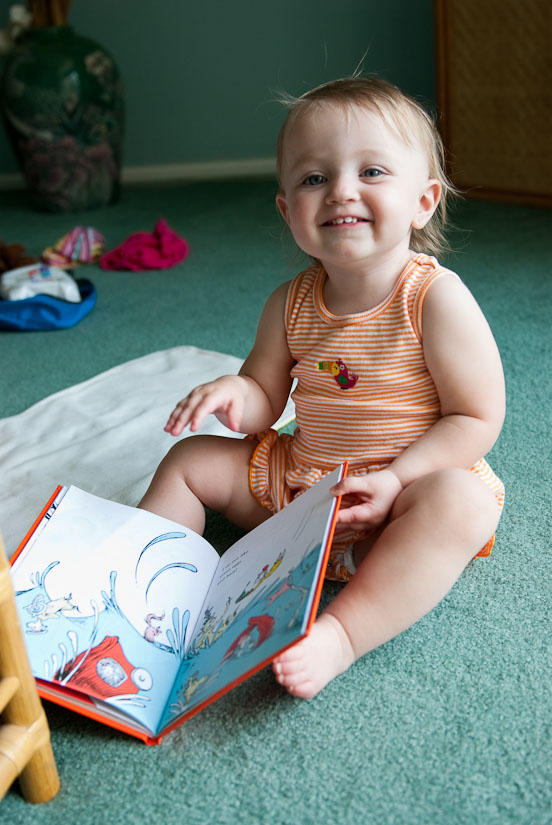 NIKON D200, ISO 200, ƒ/2.8, 1/160sec, 29mm focal L., map
One morning, they were burning a cane field. Later, we learned that the fire helps draw the sugar into the cane, eliminating some of the moisture and most of the dead leaves.
Burning cane fields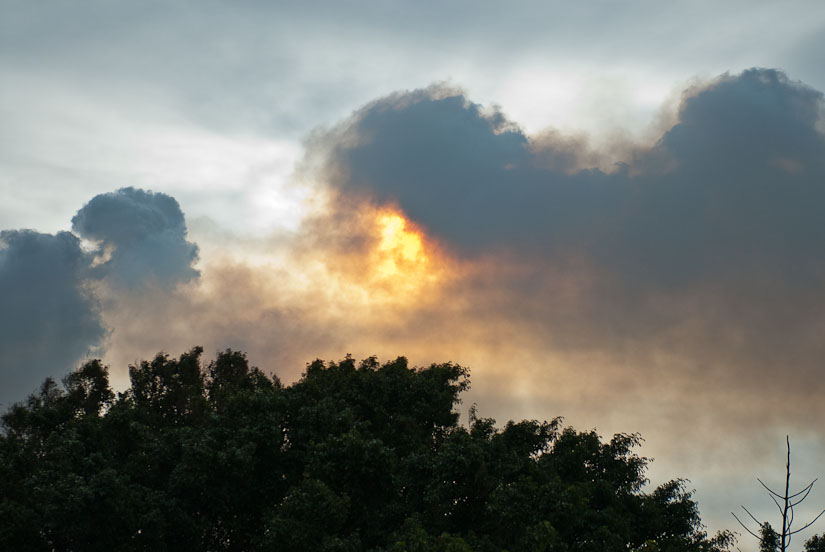 NIKON D200, ISO 100, ƒ/2.8, 1/2500sec, 70mm focal L., map
There was something magical about drinking coffee and lounging on the lanai. The kids brought out toys and generally had relaxed mornings with us.
Lounging with fantastic coffee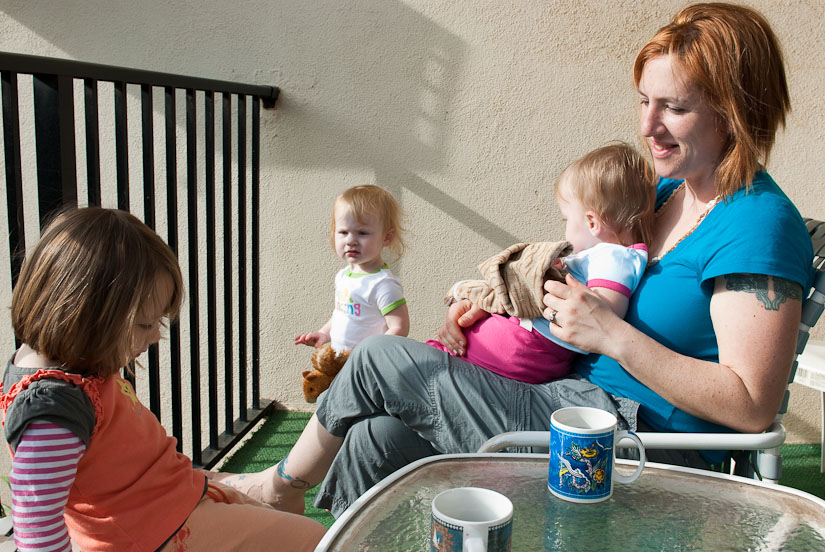 NIKON D200, ISO 100, ƒ/7.1, 1/160sec, 24mm focal L., map
Just didn't get tired of the view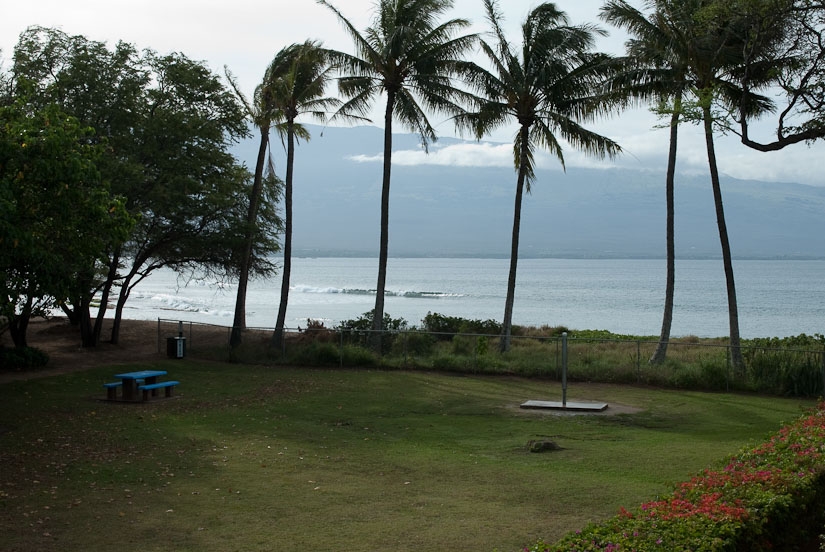 NIKON D200, ISO 100, ƒ/10.0, 1/160sec, 32mm focal L., map
Valerie picked up the camera and caught me catching wave. After watching it for the previous day and getting the bug to get ahold of a board, I had to get out give it a shot. However, it breaks over a very gnarly, very shallow shelf of reef and the good waves were few and far between. The wind howled off shore and made for continuous paddling to stay in position, not to mention a very efficient evaporative chiller effect.
After trying out 3 difference breaks and paddling around for over an hour, I gave up and went in to warm up after only 2 mediocre rides. To add insult, the south swell all but vanished for the rest of the trip.
I actually caught a wave — It was about knee deep over the reef — don't fall!


NIKON D200, ISO 100, ƒ/14.0, 1/125sec, 52mm focal L., map
One evening while grilling some sausages, this rainbow formed over the bay in the evening light.
Rainbow sunset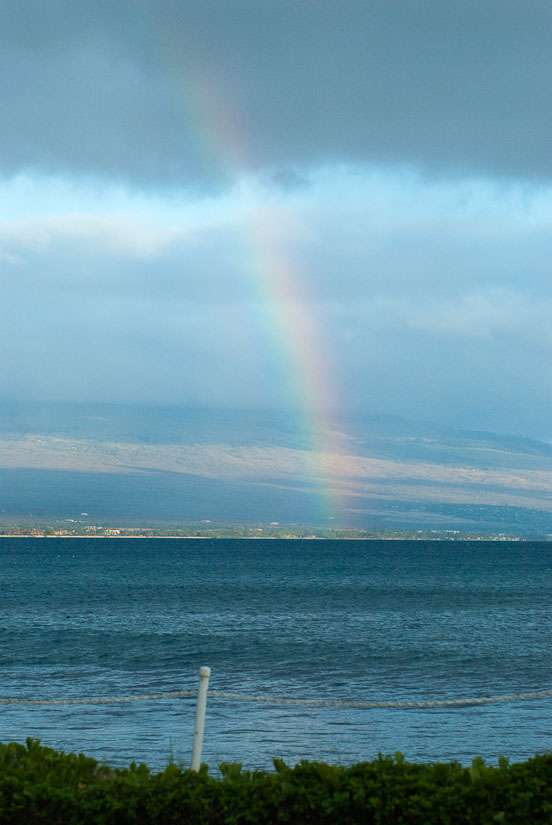 NIKON D200, ISO 800, ƒ/4.0, 1/1500sec, 70mm focal L.