Our first Hawaii vacation started with a 7:30 AM flight out, non-stop from SJC to OGG, Kahalui, Maui on Alaska Airlines, oddly enough. We were fortunate enough to have a flight that was maybe 60% full and the gate agent was an angel and blocked out 2 empty seats for the twins so that we had 5 seats all together.
Settling in for departure — All smiles at T+0 in the plane.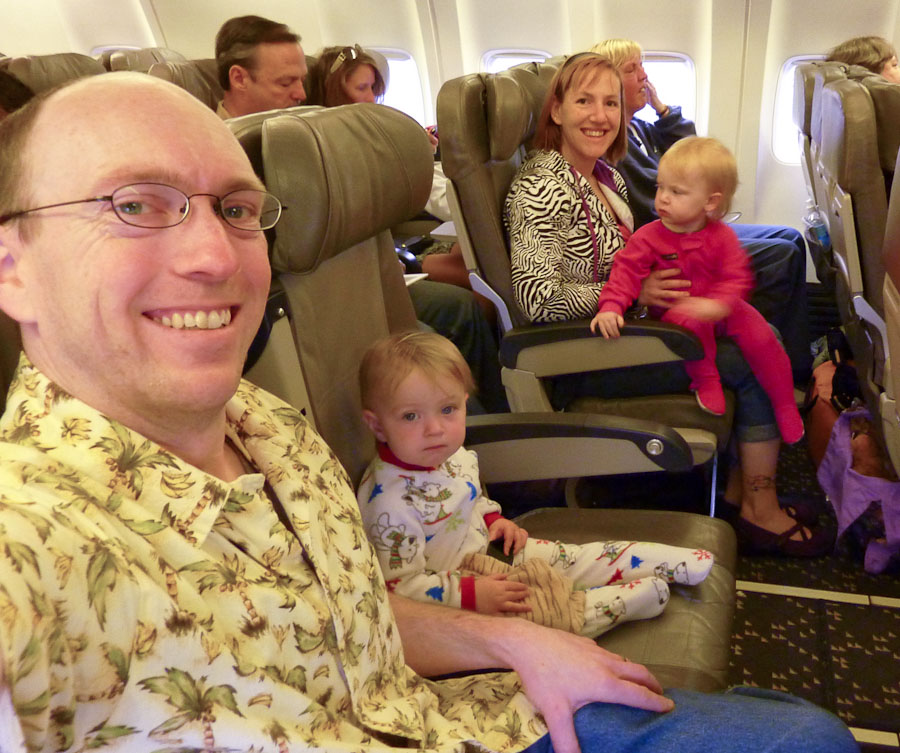 DMC-ZS3, ISO 400, ƒ/3.3, 1/8sec, 4.1 mm focal L., map
Almost all smiles — Elise is awfully groggy and still running a small fever.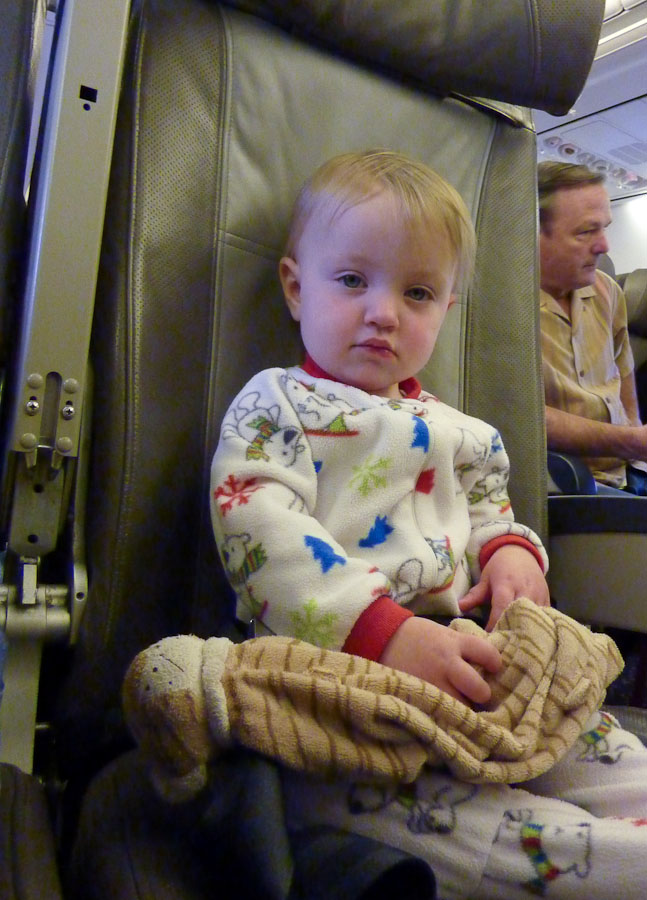 DMC-ZS3, ISO 800, ƒ/3.3, 1/15sec, 4.1 mm focal L., map
Maia had a panic attack as we walked outside to the air-stair. She completely freaked out, went limp, and fearfully screamed in terror. Mind you, Valerie and I have our arms completely full as we attempted to gate-check the strollers and wrangle the twins plus a few carry-ons; neither of us were ready to deal with a 30-pound sack of Maia. I finally just hoisted her over my shoulder and she screamed at the top of her lungs until we got seated.
We were amongst the last to board and the piercing stares from people seated around us were truly priceless as they contemplated the horror or 6 more hours of the same.
Maia's excited and ready for lift off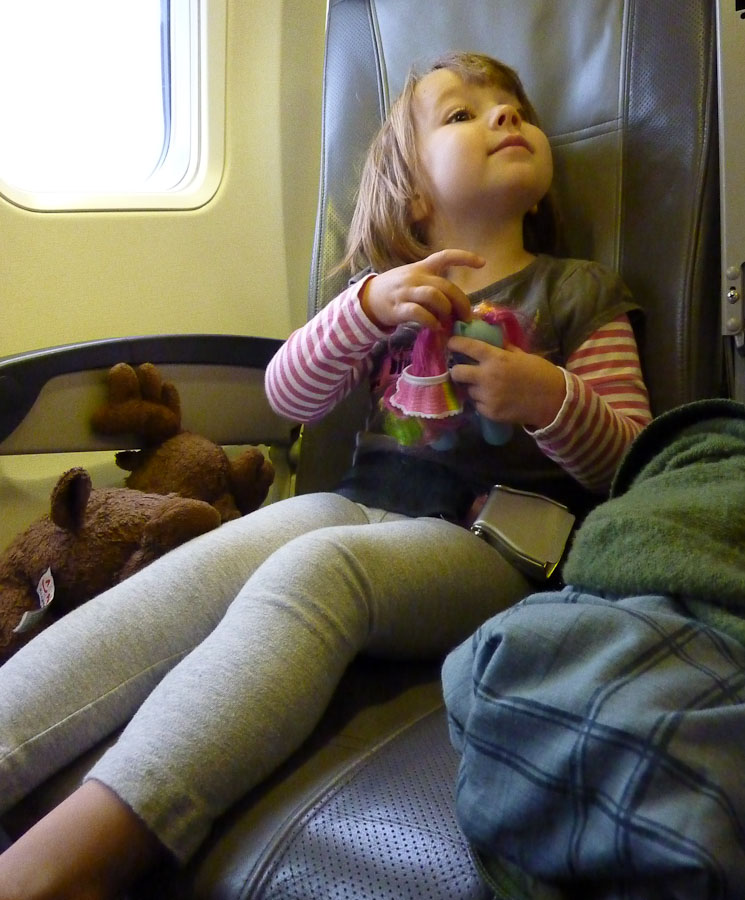 DMC-ZS3, ISO 800, ƒ/3.3, 1/30sec, 4.1 mm focal L., map
But, Maia settled down soon after we were seated and we had a conversation about the scary noises and she was relieved that it wouldn't be so loud inside the plane. Soon after, she was distracted by toys and she repeatedly asked if we were flying yet.
The ponies got lots of exercise — They were running and jumping and getting their hair combed for hours.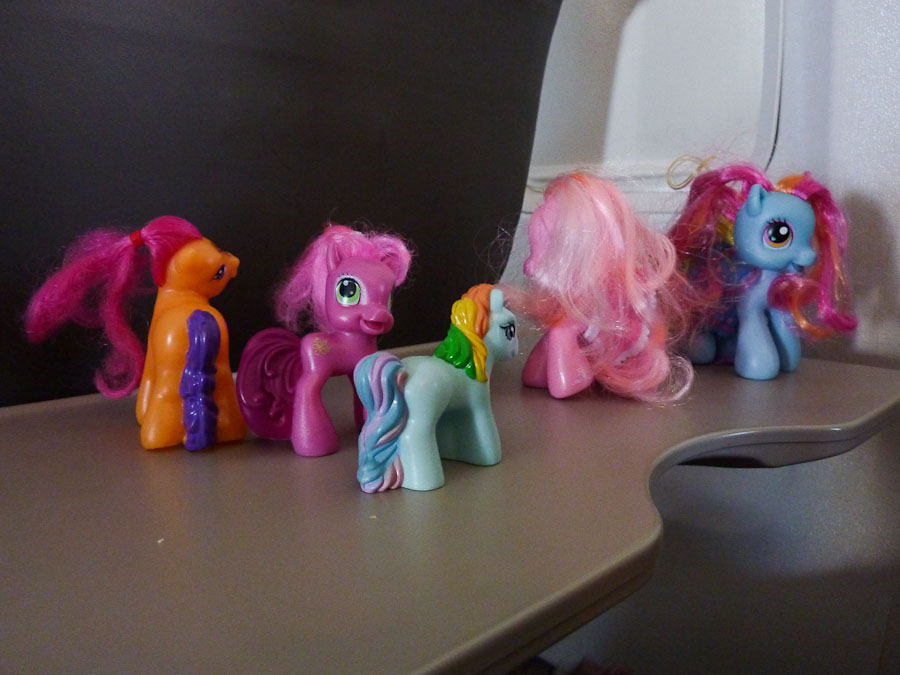 DMC-ZS3, ISO 400, ƒ/3.3, 1/8sec, 4.1 mm focal L. ~494mi from prev photomap
Sleepy Elise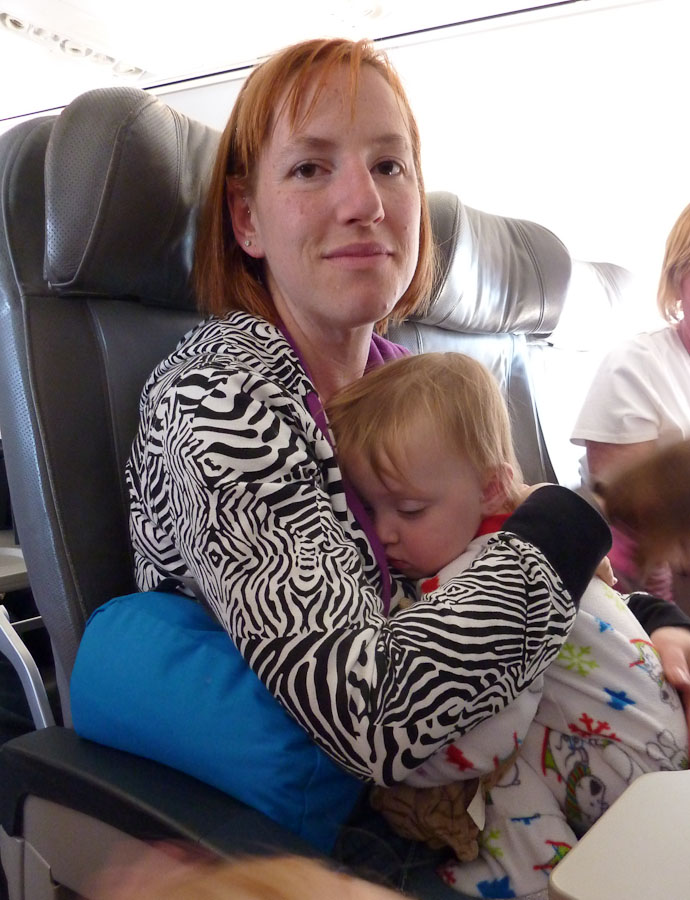 DMC-ZS3, ISO 400, ƒ/3.3, 1/8sec, 4.1 mm focal L. ~624mi from prev photo, map
Naturally, the night before we leave, the twins came down with 100+ ˙F fevers. They were still pulling a moderate fever for the plane ride, but, fortunately, they had no other symptoms. They weren't really eating and had very little energy — turns out feverish, sleepy toddlers make great travelers. With all that snuggling and sleeping, they hardly got board at all.
Feverish babies make good travel babies — At T+5.5hours in the plane, this is about how it looked for much of the time.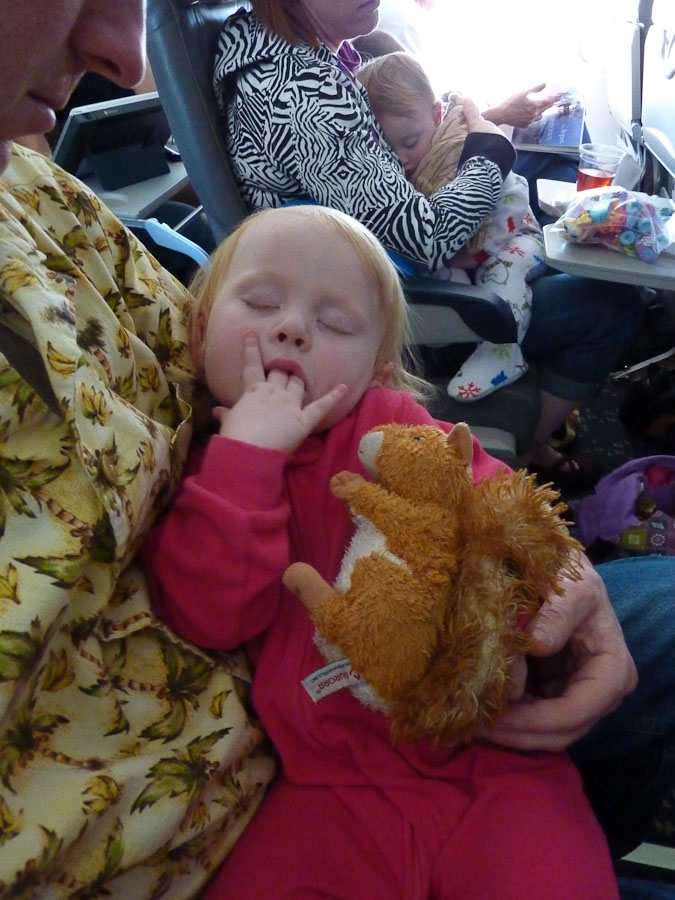 DMC-ZS3, ISO 800, ƒ/3.3, 1/10sec, 4.1 mm focal L. ~786mi from prev photo, map
After landing, we were greeted with a misty rain that fell so lightly it looked more like snow swirling in the breeze. We loaded the rental car up with a week's worth of supplies from Costco, and then made our way to the condo in Maalaea. One look out the lanai (balcony) and the lengthy flight was a distant memory…
We made it! — Ohh, darn. We really have to stare at this for a whole week?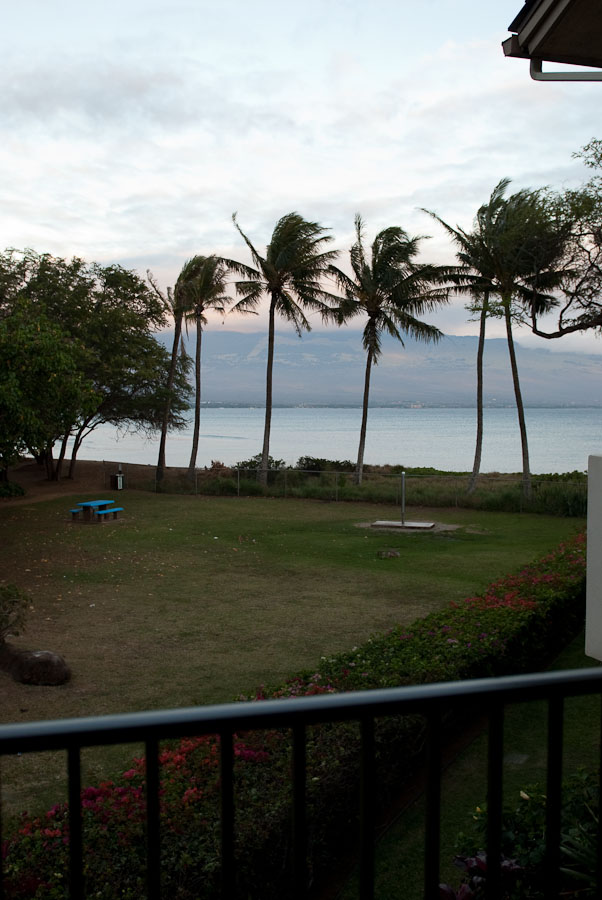 NIKON D200, ISO 160, ƒ/2.8, 1/200sec, 24mm focal L. ~474mi from prev photomap
Actual surf? — Just outside my lanai? This could really be paradise.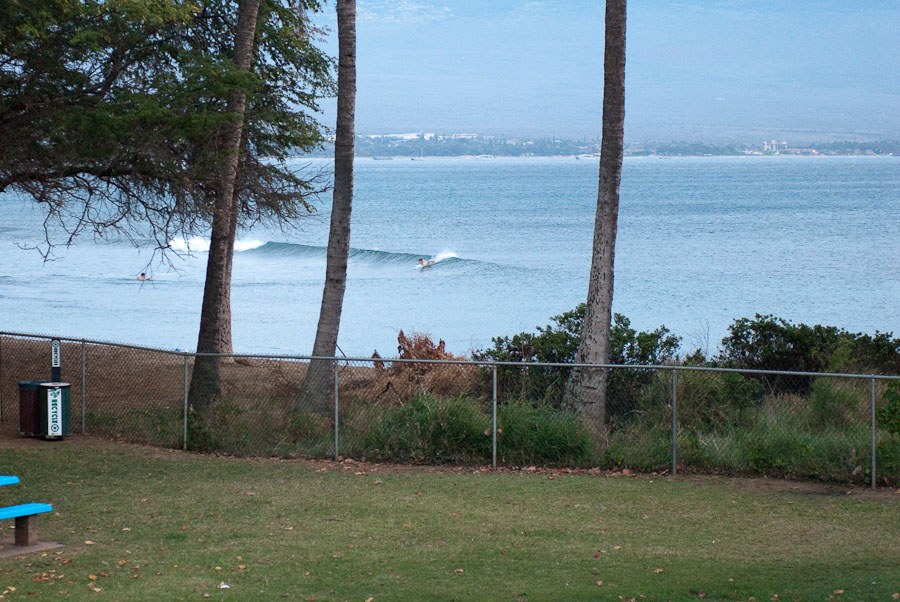 NIKON D200, ISO 640, ƒ/2.8, 1/50sec, 70mm focal L., map
The kids ran around for a bit and then they were off to bed — it'd been a very long day for them from 5 AM till almost 10 PM. Valerie and I enjoyed a beer (or maybe 3) just watching the surf gently roll onto the sandy beach. Paradise was ours.
Relaxing after the kids are in bed.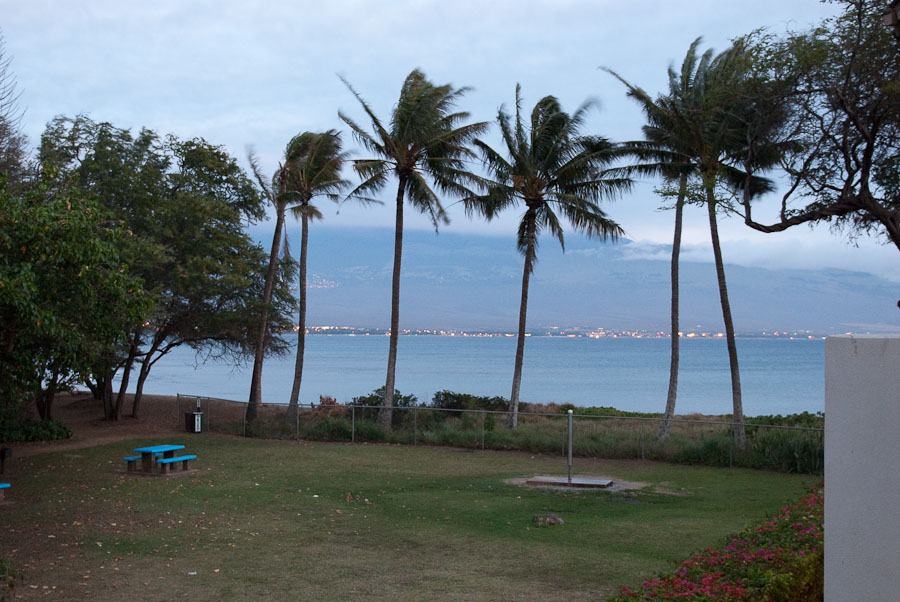 NIKON D200, ISO 640, ƒ/2.8, 1/4sec, 29mm focal L., map