Second batch of beer finished up — a Belgian Trappist Dubbel (double).
Ingredients:
6 lbs Coopers Dry Malt Extract (DME)
0.5 lb corn sugar
1.5 lb (16 Fl Oz) Belgian Dark Candi Syrup — D2
1 lb Munich malted grain (1.4L)
0.5 lb Belgian aromatic malted grain (20L)
0.5 lb Belgian caramunich malted grain (50L)
0.5 lb Belgian special B (130L)
6 AAU Amarillo Hops
White Labs Abbey ale yeast  WL530 — 3 vials, or a large starter
Method:
Put 6 gallons of water in the brew kettle
Put the grains in the kettle inside of a grain bag.
Heat to 155˚F and steep for 60 minutes.
Remove grain bag and drain. Rinse with hot water but do not squeeze the bag.
Add DME and bring to boil
Add hops and boil for 60 minutes
Add candi syrup and corn sugar and then boil for 5 minutes
Cool as quickly as possible.
Add yeast and aerate thoroughly
For best result, cool to 65˚F and let the temp rise slowly to 70˚F during fermentation.
Batch Notes
Batch #2:
Pitched the evening of 1/17/2010
Brewed in 5G pot.
Pitched at 73˚F. First use of wort chiller — took about 1 hour to cool to 73˚F w/ top-up water. Needs more work.
FU#1: Pre-heated the water. Added grain when it was 120˚F
Volume in fermentor: 5.25G
Very slow to finish fermentation. Bubbled ~2 months. Racked to secondary and racked to keg with air-lock after that.
IG: 1.073; FG: 1.017; ABV: 7.4%
Nose: plummy, spicey, hint of nutmeg.
Flavor profile: tons of toasty caramel, slightly sweet and nutty. Finish is clean, doesn't linger excessively, which is problematic as it leaves you wanting another sip — far to easy too drink. Brings back fond memories of honeymooning in Brugge.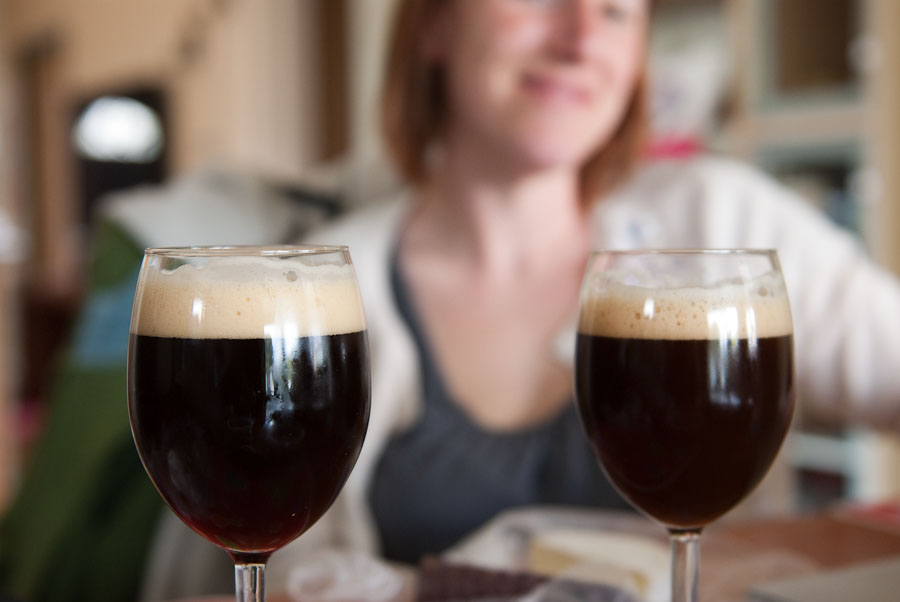 NIKON D200, ISO 250, ƒ/2.8, 1/45sec, 38mm focal L.