Day 13-18: Hang'n around Weiser, ID and the start of the trip home. — 342 miles
Dad and I got home to Weiser on a Saturday evening. The stomach bug was working its way through my family at a rate of one person per day, starting with one of the twins. I was the last person to come down with it in the wee hours of Tuesday morning. It'd knock you down for 24 hours and then you'd be back to normal. Well, normal minus all your energy since you weren't able to keep anything down for the previous day.
As nice as it was to be back home visiting my folks, it was mostly an exercise in disinfecting the house in hopes of keeping others from getting sick. It sort-of worked since Mom and Dad, thankfully, managed to avoid it and we also managed to avoid re-infections of those that already had it (which, sounds odd, but we'd heard anecdotal evidence that this was happening with this particular bug).
Living in the SF Bay area, it's easy to forget about severe weather — it just happens so rarely there. This particular week, there were all sorts of evening storms that rolled through western Idaho. I could do without the fires they cause, but, I'm fascinated by lightning storms. I tried to capture it for the first time and I found it to be rather difficult to get the shot. Between the wind and the rain, I wasn't well situated to get the best view of the most likely places it was striking. Below was from Monday night (8/3/09):
Sparks — Don't see these often in San Jose.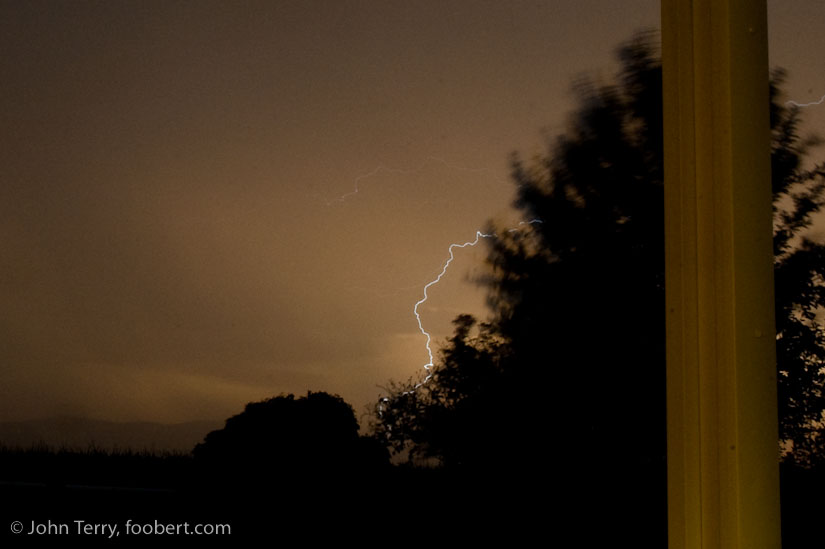 NIKON D70, ISO 200, ƒ/25.0, 30sec, 27mm focal L.
And Tuesday night:
Sunset sparks — that's an onion field in the foreground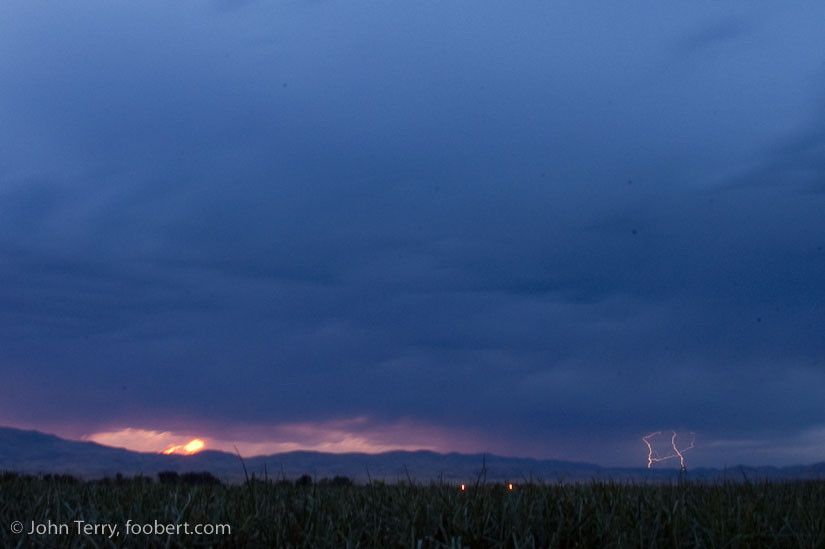 NIKON D70, ISO 200, ƒ/22.0, 30sec, 22mm focal L.
Finally on Thursday, we decreed the bug had run its course; 2-full days without anyone heaving! We all descended upon the new parents to see Henry and (Chellie and Tim too!).
Baby Henry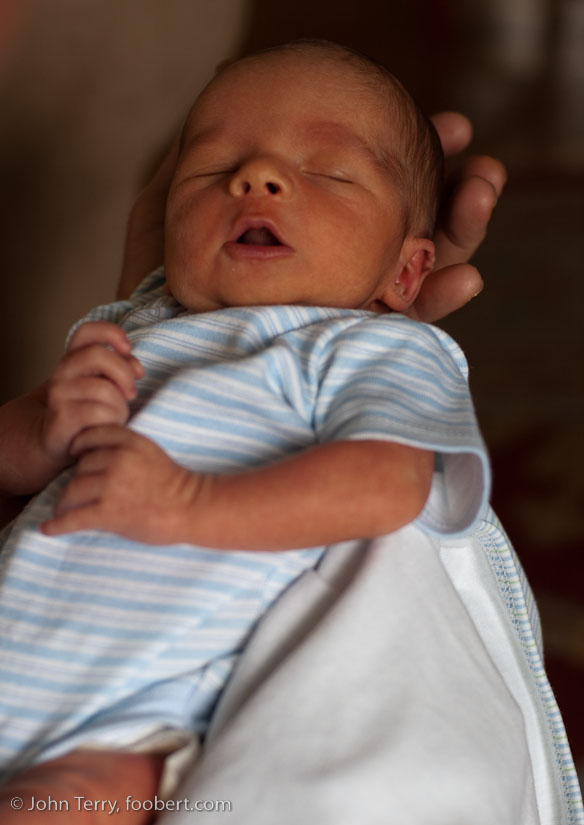 NIKON D70, ISO 200, ƒ/2.5, 1/100sec, 50mm focal L.
Valerie, gets a turn holding the wee one. No worries about baby fever — three is plenty for us!
Everybody wants to hold Henry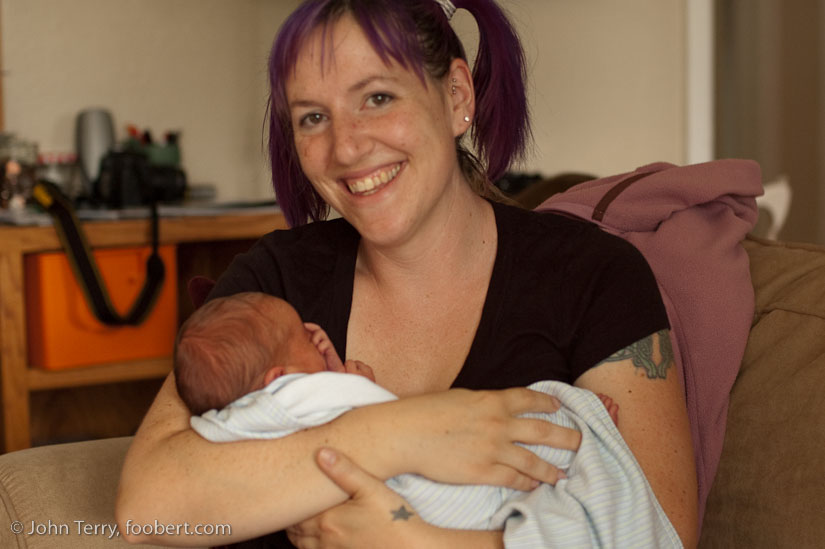 NIKON D70, ISO 500, ƒ/2.5, 1/50sec, 50mm focal L.
Maia, smacks her chops after digging into some strawberries. Apparently they were so good, she had to wear them
More strawberries please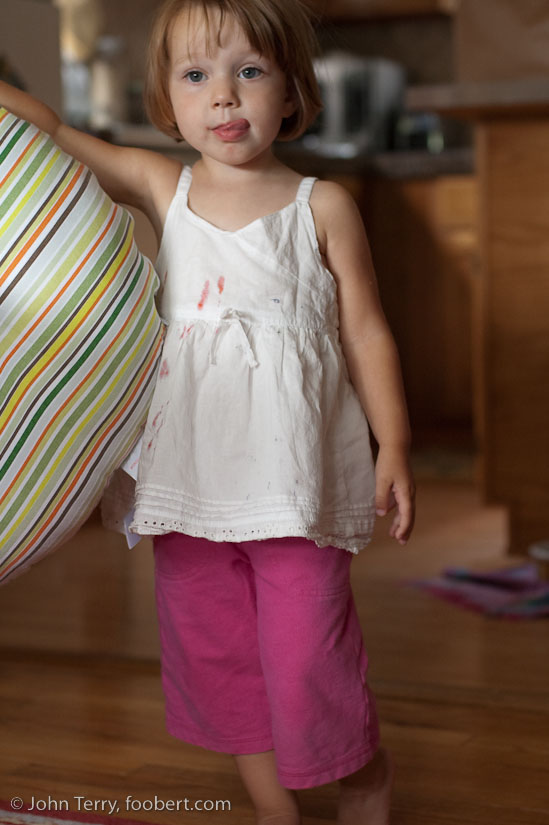 NIKON D70, ISO 500, ƒ/2.8, 1/60sec, 50mm focal L.
Valerie had driven up to Idaho so the whole family could share in the visit and we'd be "caravanning" back to CA. Good bye Dad as my road partner; hello wife and family!
It's about a 12-hour drive in "go-mode" making minimal stops for gas and little else. But, traveling with 3 kids that are 3 years and under does not make for a "go-mode" trip; it would take us 2 full days to get home, especially since we were taking the more scenic route.
Unfortunately, a cold-front had moved into the area and promised rain for much of the day. It never outright poured, but, it was a steady rain all morning long. It was also 42˙F at the higher elevations along US-20 through eastern Oregon and combined with the rain it made for a very chilly ride. We made it to Burns in a single 4-hour stretch and we all needed a break; me to warm up and the kids to release some energy — all whilst eating brunch.
Youngest daughter Elise (by 5 minutes to her twin sister Stella), had enough pent up energy to pull up on the table and stand on two feet for the very first time. For the parents out there, you know how exciting that is. Back to the ride report for the rest of you …
Standing up! — A new milestone for Elise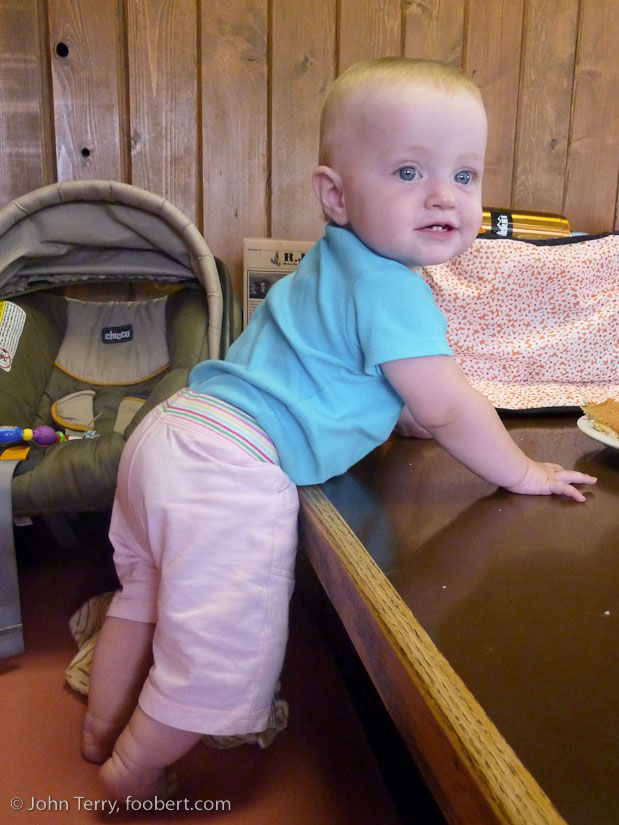 DMC-ZS3, ISO 500, ƒ/3.3, 1/60sec, 4.1 mm focal L., map
The First Gear rain suit worked as advertised and kept me dry the whole time. I had some waterproof gloves, but, my fingers would have gone totally numb if it hadn't been for the heated grips.
Due to the rain, I put my camera in the car (along with most of my other junk just to unload the weight). This didn't bother me until the rain let up and I was stuck using my telephone's camera.
Finally around 2:30, it stopped raining.
A break in the rain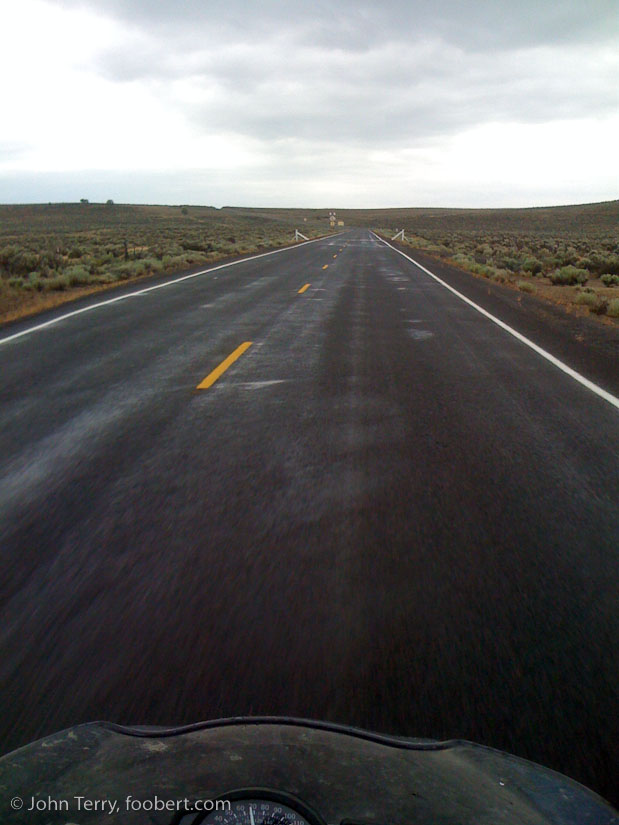 iPhone @64 MPH, ~31mi from prev photo, map
Following the family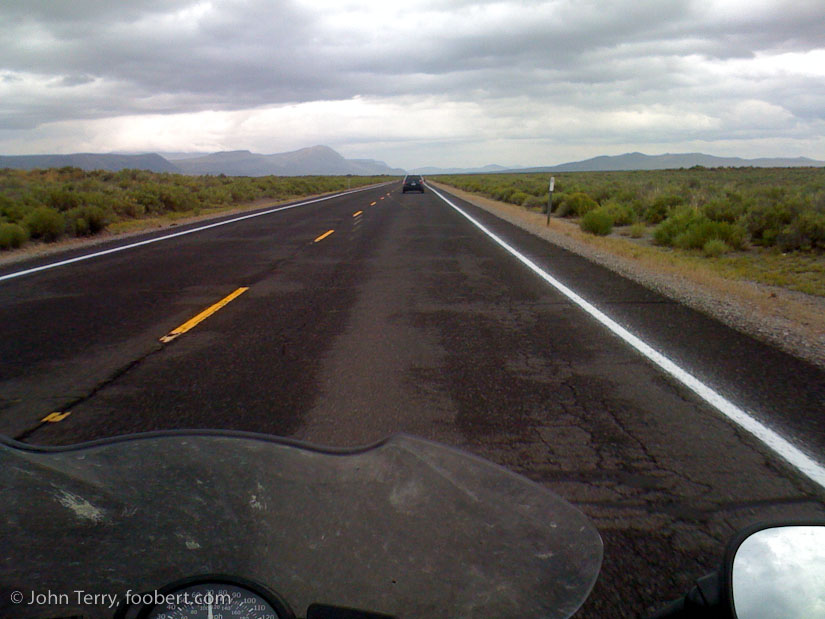 iPhone, @66 MPH, ~42mi from prev photo, map
Somewhere along the way, the roads had dried up and I was getting bored following Valerie in the car. I passed her and played around on the empty roads. I'd settled into a decent speed and I knew she'd catch up if I stopped along the way. About 20 minutes later, I see a blue car in my rear view that sorta looks like our Jetta and I'm thinking that she must have also gotten bored and stepped it up a notch. So, in turn, I bumped it up more when the coast was clear and the blue car continued to follow, keeping up quite nicely.
After about 5-10 miles of this, I figured it out that the blue car was not the Jetta as we were consistently doing 80 and up, even when the coast wasn't clear — too fast for me (Oregon 2-lane highways are posted at 55MPH).
Lake Abert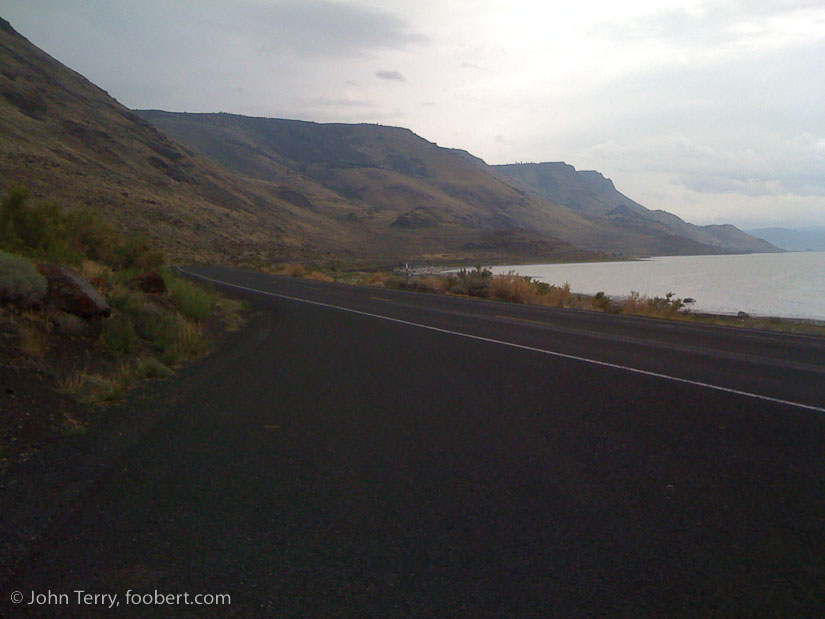 iPhone, ~41mi from prev photo, map
I stopped to checkout the sights of the Abert Rim and wait up for the family.
Roadside geology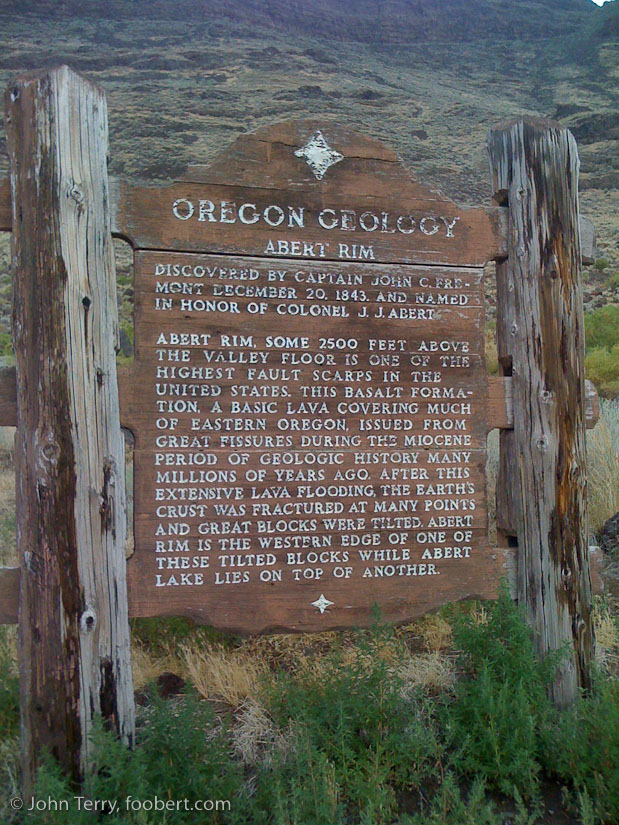 iPhone, map
Just for giggles, I took 3 shots with the intention of stitching them together — the results were rather terrible since you have no control over what processing it does (differently) to each shot.
Abert Rim — A stitch of 3 phone pictures.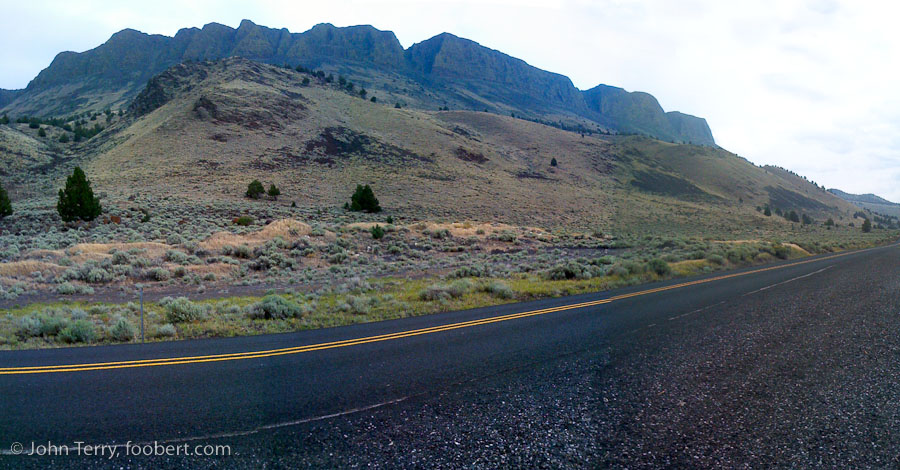 iPhone, ~5.3mi from prev photo, map
I don't recall every driving US-395 through this area and Lake Abert kept my interest very nicely. Pardon the phone pictures — it just doesn't do justice to the cliffs of this area.
We stopped in Alturas, CA, for the night and went on a walk in search of some place to eat. We chose the Thai joint as it was more interesting than diner food, but we got the stink-eye from the waitress the moment we walked in with the double stroller. We should have just turned around and found some other place. The food was OK, but, the service ruined the meal. We thanked the waitress for her cold shoulder by letting her clean up the mess created by two 11-month-old babies that were still learning how to feed themselves (as an aside, Valerie spent many a year waitressing. We tip well and have the respect to clean up our kids' messes if the servers do their job and make even a minimal effort to be hospitable. But, cross that line into being rude…). You reap what you sow.
The travel day worked out well with the bike/car combo. I had it worked out that Valerie could call me on the cell phone and I could hear her, but, not (intelligibly) talk back to her. She didn't seam to mind me running off ahead and I sure enjoyed having the family around when we stopped.