So begins the tale of my first cross-country motorcycle trip. Quick links to the various days of the trip: 1, 2, 3, 4, 5, 6, 7, 8, 9, 10, 11, 12, 18, 19, Epilogue.
Day 1: San Jose, CA to Lee Vining, CA — 229 miles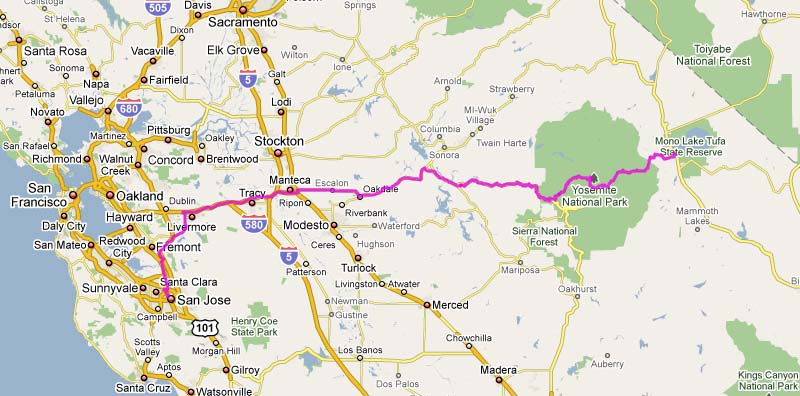 The plan for the day was to get out on the road "first" thing in the morning. Unfortunately, I just wasn't ready to go.
Gased and ready to go — The adventure begins….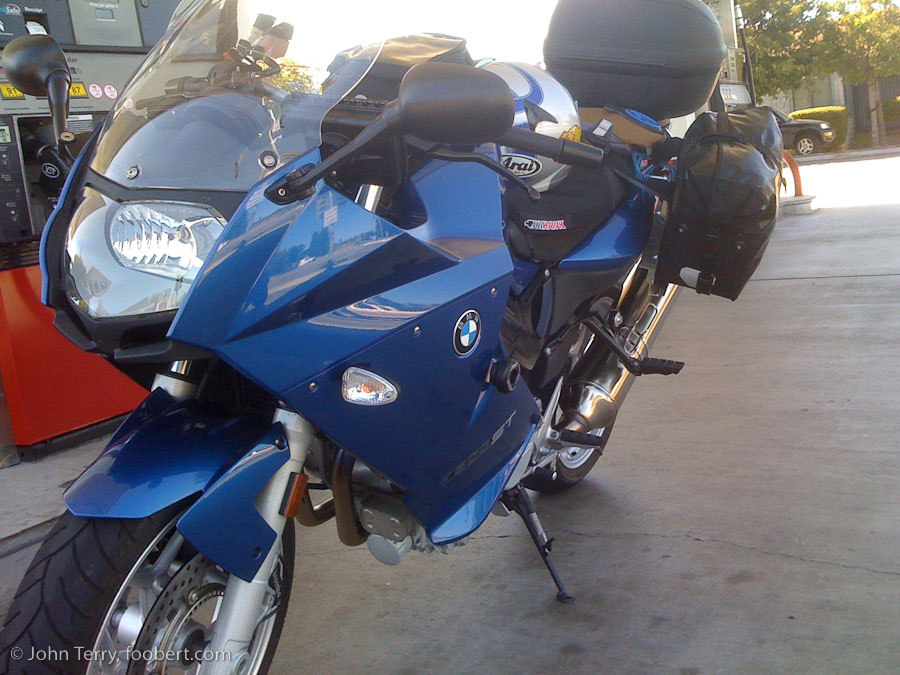 I had to finish some bike prep, pack, and get loaded up. Then, it was off to work to hand-over projects to the temporary owners. I was finally gassed up and on the road a bit after 4:00 PM; just in time to hit Bay Area traffic. Ohh Joy.
Lane-split all the way through to the Altamont Pass and then was able to make some time. Finally relaxed enough to get my wits and take the first picture of the trip.
HWY 120 — Don Pedro Reservoir on the way to Yosemite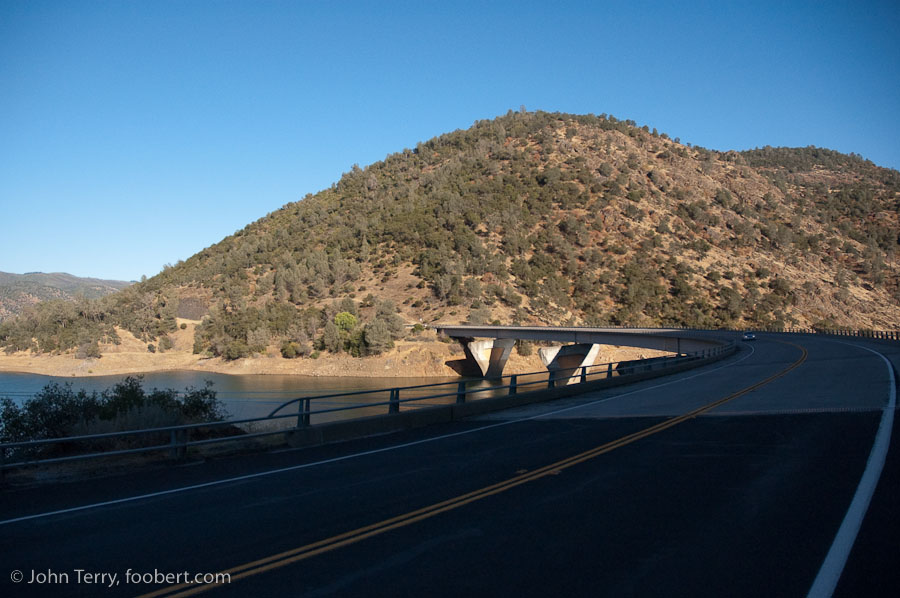 NIKON D70, ISO 640, F3.5, 27 mm, 1/4000 second. Location
I'm headed to Tioga Pass through Yosemite. This was the first real up-hill climb, taking the short-cut through the old road.
Old Priest Rd — Short cut around traffic on HWY 120.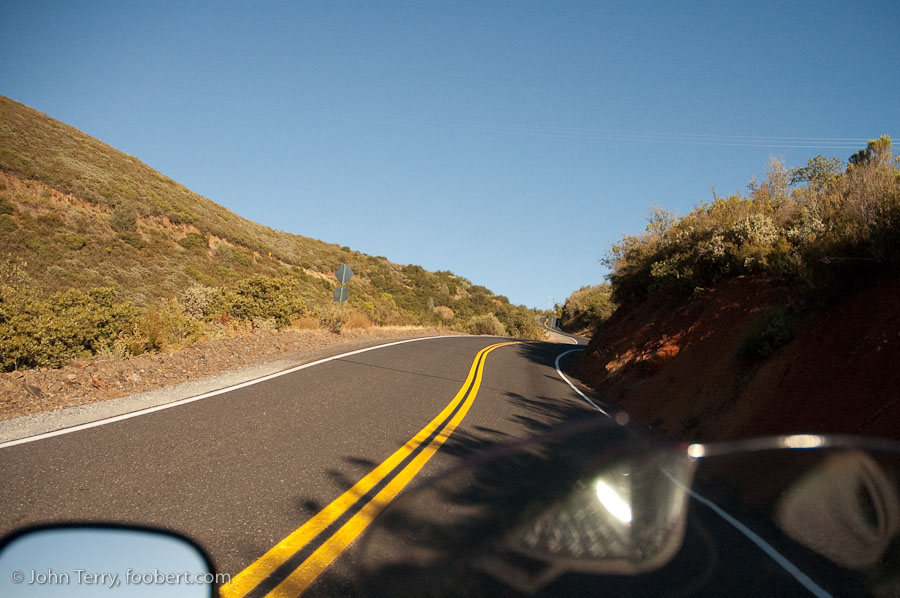 NIKON D70, ISO 640, F3.5, 27 mm, 1/5000 second. Location
The foothills east of the Central Valley are loaded with old gold-rush era towns. Groveland is a perfect example.
Groveland, CA — Old boomtown.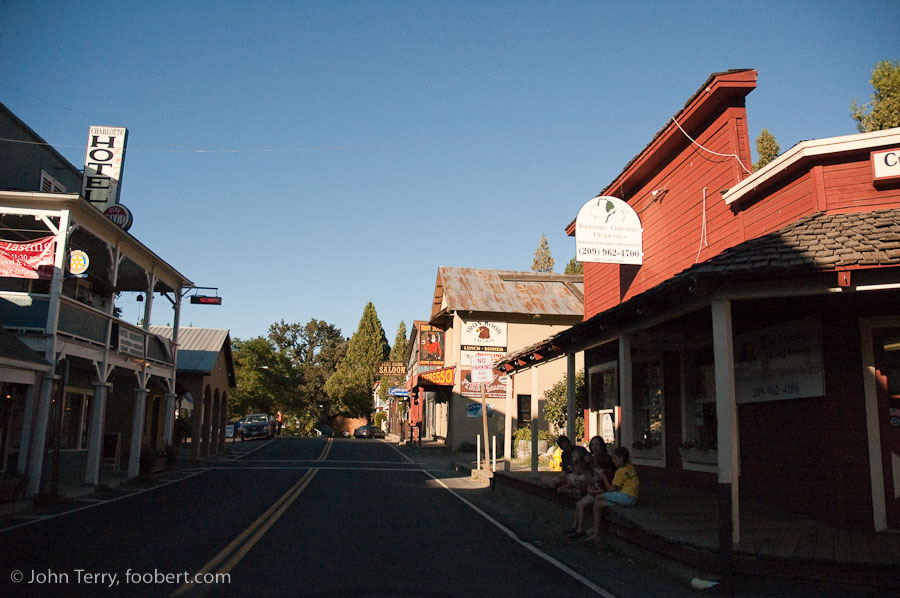 NIKON D70, ISO 640, F3.5, 27 mm, 1/8000 second. Location
I'd had the sum total of a bowl of cereal to eat all day. My destination of Lee Vining was *just* past the edge of comfort on my fuel range. I ate at Buck Meadows Restaurant and as walked through the door, I was greeted with the sound of an old up-right saloon piano — you know with that "twang" sound from western movies where the piano player inevitably slumps over dead during the shoot out. I thought it was just the ambiance of the place, but, it turns out it was a customer (I think) that was just bang'n out an exaggerated classic western tune.
I burned an hour+ fueling myself and the bike. By the time I got to Yosemite, it was dusk, which put a dampener on picture taking.
Fire on the horizon — Planned fire to clear brush.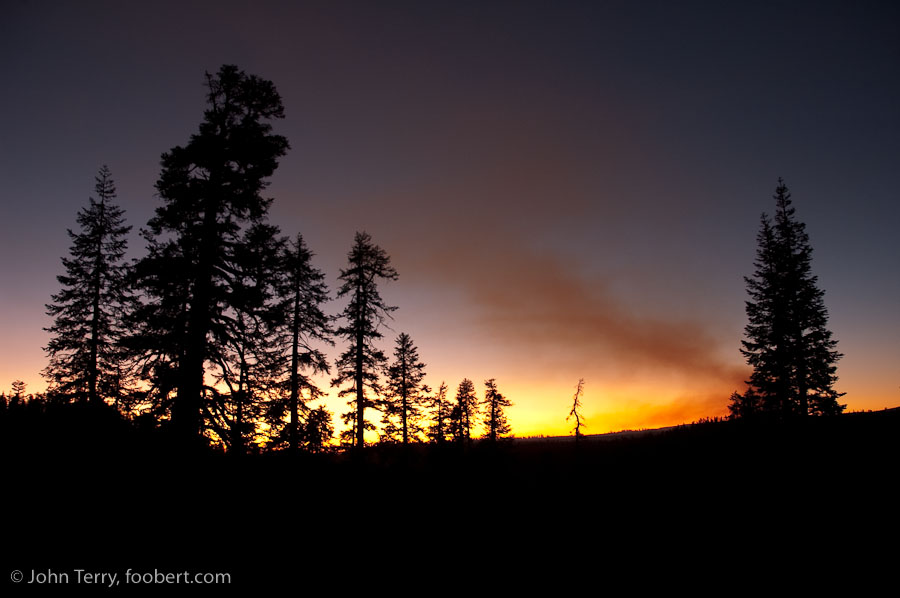 NIKON D70, ISO 200, F5.0, 27 mm, 1/5 second. Location
Ambient light night shots are some of my favs. There was no moon out, so, this was the last of the dusk light. Star light after this just isn't enough for my camera gear — it was dark, dark, dark.
The F800ST has decent lights, but, I was glad to have been following a car when we came across a deer in the road.
Mt Hoffman at Dusk — Tioga Pass HWY 120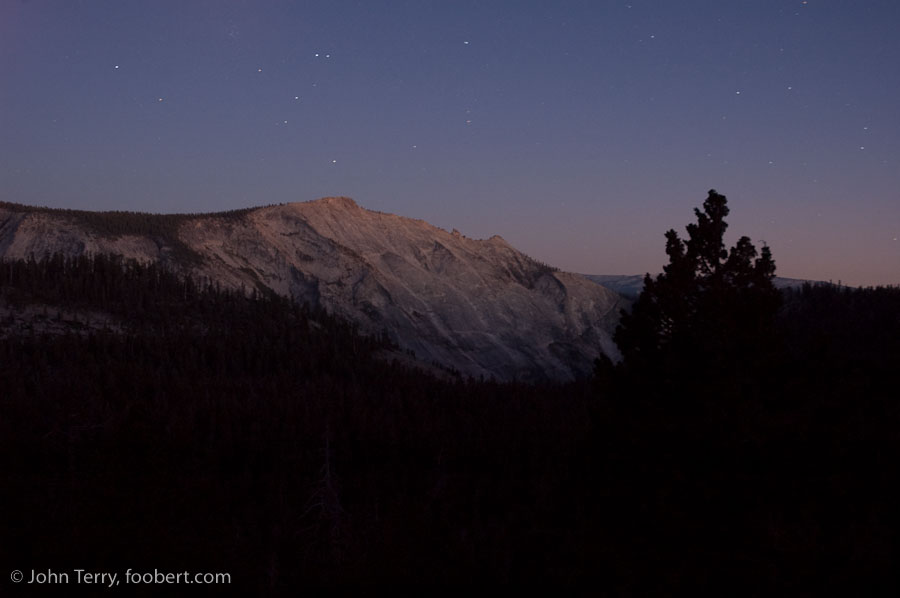 NIKON D70, ISO 500, F5.0, 40 mm, 30 second. Location
There was a lovely view of the stars that night. I made it into Lee Vining a bit after 10PM and the motel operator had left the room key in the drop-box, just as planned. Checked in on my wife and kids (who'd long since had gone to bed), and attempted to crash out.
Its funny how you need to take a vacation, precisely because you are *preparing* to take a vacation. My job doesn't lend itself to just "dropping" things, so I'd been burning the candle at both ends in preparation for being gone for ~3 weeks. I was too worked up, and there were too many strange noises for me to get a good night's rest.